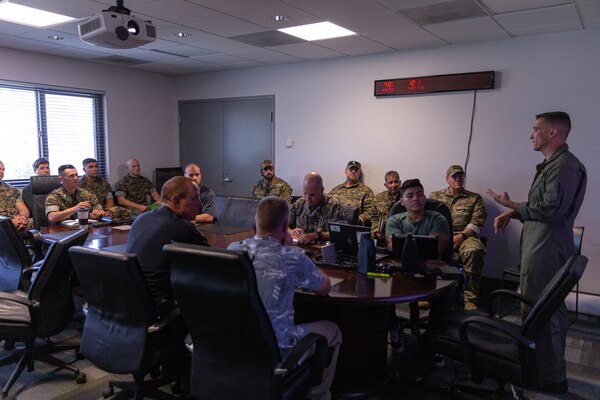 SAN DIEGO, Calif. —
The 2019 Marine Corps Air Station Miramar Air Show will be kicking off on Sept. 27, and run through through Sept. 29. The MCAS Miramar Air Show is the largest military air show in the United States, showcasing the capabilities of Marine Corps' aviation. MCAS Miramar opens the gates of the air station to the public each year, for an opportunity to view both military and civilian aviation performances. This year we are dedicating the airshow to our first responders who consistently go above and beyond the call of duty to keep the community and its residents safe.
Each year the total viewership is estimated to be around 500,000, with this year being no exception, as we look forward to an amazing lineup of demonstrations and displays.
This year's show will include a wide array of demonstrations from the Marine Air-Ground Task Force, The Royal Air Force Red Arrows, U.S. Navy Blue Angels Jet team, U.S. Army Golden Knights and the U.S. Navy Leap Frogs. The show will include a large selection of static displays presenting aircraft from the United States Marine Corps, Navy, Army, Air Force, and civilian or historic military aircraft.
"The airshow is a great tool to keep the community's bond stronger by inviting the whole city and even the outside areas to enjoy the entertainment that is offered. The airshow shows the community what we, as military personnel, can accomplish and do on a daily basis." Sgt. John A. Reyes, a lead firefighter with Miramar Aircraft Rescue and Firefighting.
A major element of each years show is the MAGTF demonstration, which is a simulated air-to-ground combat assault by numerous Marine Corps units that demonstrates the relationship between our air and ground elements and how they work together to accomplish the mission of the MAGTF. The year is the first year that the new F-35s will be providing cover for Marine Corps paratroopers as helicopters bring in platoons of riflemen. KC-130s provide aerial refueling overhead while M1-A1 tanks and Light Armored Vehicles support the ground offensive. This will be accompanied by special effects to simulate air-to-ground explosions.