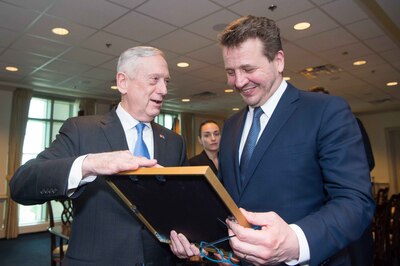 ---
WASHINGTON —
Defense Secretary James N. Mattis met with Iceland's foreign minister at the Pentagon today to express a mutual commitment to the deepening defense relationship between the United States and Iceland, chief Pentagon spokesperson Dana W. White said.
Cooperation on Arctic and NATO
In a statement summarizing the meeting, White said Mattis and Gudlaugur Thor Thordarson discussed ways to increase U.S.-Iceland cooperation in the Arctic and NATO command structure reform.
"Secretary Mattis also expressed appreciation for Iceland's additional investment in infrastructure upgrades to support U.S. and NATO missions," White said.