This report originally published at defense.gov.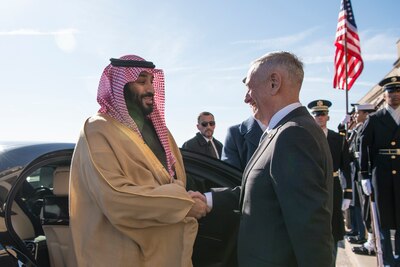 WASHINGTON, March 22, 2018 —
Defense Secretary James N. Mattis today affirmed the importance of the U.S.-Saudi Arabia defense relationship in a meeting at the Pentagon with Saudi Defense Minister Crown Prince Mohammed bin Salman, chief Pentagon spokesperson Dana W. White said.
In a statement summarizing the meeting, White said they discussed the security environment in the Middle East, including confronting regional threats through a united Gulf Cooperation Council.
Cooperation Against Transnational Terrorism
They also addressed the importance of U.S.-Saudi Arabia military cooperation in defeating transnational terrorist organizations and supporting the United Nations-recognized government of the Republic of Yemen's efforts to bring the conflict there to a peaceful resolution, she added.
The two leaders said they look forward to deepening the U.S.-Saudi Arabia defense partnership and continuing to work closely together, White said.
U.S. Department of Defense (DOD) reports are created independently of American Military News (AMN) and are distributed by AMN in accordance with applicable guidelines and copyright guidance. Use of DOD reports do not imply endorsement of AMN. AMN is a privately owned media company and has no affiliation with the DOD.