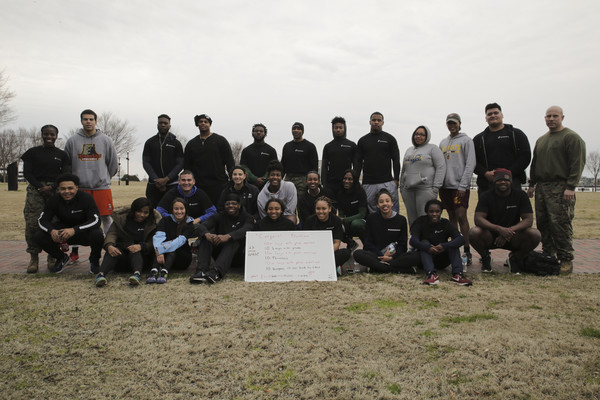 NORFOLK, Va —
U.S. Marines partnered with the Mid-Eastern Athletic Conference for the 2018 MEAC Basketball Tournament at the Scope Arena in Norfolk, Virginia, March 5-10, 2018.
For the seventh year, the Marine Corps partnered with MEAC to maximize visibility and create lasting relationships with community leaders, students and attendees. The Marines taught and engaged with select groups of student athletes while sharing the Corps' commitment toward developing quality citizens and reinforcing how the Corps values of honor, courage and commitment relate to success.
"The MEAC is comprised of several different historically black colleges and universities with great reputations, not only for their athletics, but for their academics," said Col. Ahmed T. Williamson, commanding officer at Officer Candidates School aboard Marine Corps Base Quantico. "With such a rich pool [of students] it's a great area for the Marine Corps to find that quality talent that we want to serve our nation."
Founded in 1970, MEAC is headquartered in Norfolk, Virginia, and is one of two Division I National Collegiate Athletic Association Historically Black Colleges and Universities leagues. The Conference includes 13 HBCUs in the Mid-Atlantic and southeastern United States and participates in eight men's and women's sports.
Over the course of five days, the basketball tournament hosted the 13 schools with the winning men's and women's teams automatically qualifying to play post-season in the NCAA tournament, better known as March Madness.
During the event, Marines also recognized a male and female athlete, from each of the 13 HBCUs for their outstanding leadership in athletics, in the classroom and in their community.
Whitney White, a native of South Boston, VA, and a junior at North Carolina Central University, is one of the recognized student-athletes who stood out among her peers and received one of the U.S. Marines Leadership Awards for her display of athletic, academic and civic leadership.
"It's been very interesting," said White. "I feel privileged to have been chosen [as a recipient] and I'm really excited for the other activities the Marines have for us."
Dr. Dennis E. Thomas, commissioner of MEAC, explained that the Marine Corps has continued to build a strong relationship with MEAC as the years have passed; a strong bond that is vital to producing the leaders of tomorrow both in the Corps and in our communities.
"The Marines commitment to excellence, loyalty and leadership are all the things that we believe in at MEAC," said Thomas. "There is a compatibility of mission and philosophy between us and I am absolutely overjoyed to have a deep and long lasting partnership with the United States Marine Corps."
North Carolina Agricultural and Technical State University won the women's bracket and North Carolina Central University won the men's bracket, earning them both a spot in the NCAA March Madness Tournament beginning on Tuesday, March 13.
For more information about opportunities in the Marine Corps, visit www.Marines.com or call 1-800-Marines.