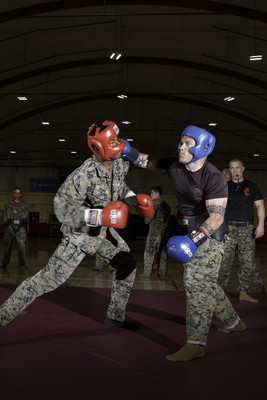 MARINE CORPS LOGISTICS BASE BARSTOW, Calif. —
If you see several Marines fighting at various locations throughout the month of May, there is a good chance they are students participating in the Martial Arts Instructors Course aboard Marine Corps Logistics Base Barstow, Calif.
The three-week course is taught by Gunnery Sgt. Justin Kratzer, radio maintenance chief in Communications and 3rd-degree martial arts instructor trainer. Included in his instruction staff are Staff Sgt. Justin Mears, Marine Corps Community Services chief and 1st-degree MAI trainer; Staff Sgt. John Fleming, logistics chief and 1st degree black belt instructor; Sgt. Regis Dugan, motor transportation mechanic and 1st-degree black belt instructor; Cpl. Kenneth Mullins, training noncommissioned officer and brown belt instructor. The variety of instructors allows for a broad array of capabilities and the training benefits the Marines in myriad ways.
"Once the Marines attending the course graduate, they will become MAIs, allowing them to train Marines up to their current belt level in the Marine Corps Martial Arts Program," said Kratzer. "They will also receive an additional Military Occupational Specialty of MAI, 0916, along with a boost in their promotional status."
The students graduate with their current belt level, plus an additional tan tab, explained Kratzer. If the Marines have a gray belt status, they'll also receive a boost in belt level upon graduation. The students are gaining much more than martial arts instruction through the program. The MAI course challenges Marines to push beyond their comfort zones in order to prepare to become not just experts in MCMAP, but to become excellent instructors and presenters, too.
"I appreciate that they're honing our leadership skills and teaching us how to give a period of instruction effectively," said Staff Sgt. Keegan Borer, a quality control technician for Fleet Support Division and a student in the MAI course.
"We want them to learn to become an eternal student," explained Mears. "There's a concept of being an Eternal Student. We use a phrase that you're either 'being' or you're 'becoming.' If you're 'being' then you can become stagnant and satisfied with where you're at and that you've already learned what you need to know. We don't want to encourage that mindset. Instead, we want to set them on a path to 'becoming' such as becoming greater than what they are whether that involves knowledge, or improving a mental aspect, or perhaps improving their character. In some cases, it may be religious work, or volunteer work and putting in those hours off-duty. Then also there is a physical aspect to this, so if they're already putting in a perfect 300 physical fitness test score, then they can still go out and do Aikido, or Jiu Jitsu or something to continue to better their skills."
Mears also pointed out the importance of acknowledging that, no matter how much you train or how hard you work, there's always someone out there who is putting in more hours, working harder and doing more.
"Especially with us, as Marines, we think we are the best of the best, few and the proud," Mears said. "Yet we've seen it throughout the battles Marines have been in, that there is always somebody out there training harder, working harder and gaining more knowledge. So that concept of 'becoming' is a really important aspect of the program."
The program is certified by the Martial Arts Center of Excellence out of Quantico, Va. It includes classroom lectures held at both McTureous Hall and the Major Gen. James L. Day Conference Center. The physical, fighting portions of the training are conducted at various locations throughout the base. The program includes informal and formal lectures, as well as physical demonstrations.
"It's important to have a steady flow of MAIs on base because instructors and trainers are constantly receiving Permanent Change of Station orders," Kratzer said. "With a new group of MAIs, MCLB Barstow will be able to continue to teach and receive MCMAP instruction once the current instructors leave."
-30-