This report originally publishes at marines.mil.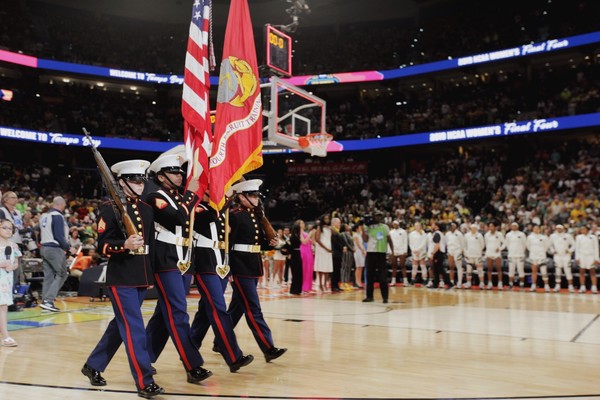 Tampa, Florida —
Marines partnered with and attended the Women's Basketball Coaches Association Convention in Tampa, Florida, April 4-7, 2019.
The Marine Corps Recruiting Command partnered with the WBCA to generate awareness, maximize the visibility of the Marine Corps within the female community across America, teach student-athletes of opportunities available within the Corps, and create lasting relationships with coaches, influencers, administrators and event attendees.
"Collegiate athletes possess a very similar fighting spirit as Marines," said Sgt. Maj. Robin Fortner, the Marine Corps Systems Command sergeant major. "[Athletes] have a mission. Their mission may be different, but getting to the mission requires discipline, commitment and dedication, much like Marines."
The WBCA's purpose is to serve its members and to help grow women's basketball by providing educational programming, networking opportunities, information and news, legislative and rules updates and acting as the collective voice of the membership to the National Collegiate Athletic Association and other governing bodies in the sport.
"The WBCA is proud to be a partner of the U.S. Marine Corps," said Danielle Donehew, the executive director of WBCA. "The Marine Corps stands for honor, courage and commitment, and those values align with everything that the WBCA strives to be and achieve each day. It's a partnership where our student-athletes and coaches are aspiring to so many of the Marine Corps ideals that I can only see positive growth in the future."
Throughout the event, Marines engaged with student-athletes during a learning lab session, a women Marine leadership panel for students who wish to become coaches, and a courtside exposition booth. They also presented the WBCA National Coaches of the Year Awards as well as the Regional Coaches of the Year Awards.
"I think coaching, just like the Marines, has an impact on people, said Molly Miller, the United States Marine Corps/ WBCA NCAA Division II National Coach of the Year award recipient, and the head women's basketball coach at Drury University in Springfield, Missouri. "To me, that's so important – the influence you have and using that influence. This [award] was a stage for me to use that influence and to be an integral part of young women's lives."
The Marines also showcased women Marine drill instructors Sgt. Amber Haddix, Sgt. Bree-Anna Perez, Sgt. Norma Gavilanes and Sgt. Carly Jones, all stationed at Marine Corps Recruit Depot Parris Island, South Carolina. They carried rifles and presented the national ensign and Marine Corps colors for a crowd of approximately 20,000 people and on national television during the National Anthem at the NCAA Women's Final Four Basketball Tournament Championship and Semi-Finals games.
"Having Marines here and my interaction with them has been phenomenal," Miller expressed. "I think they're trying to bridge the gap between civilians and the military. To see their faces here and to hear about their stories has been inspiring. Truly, thank you for all you do. It's inspiring for us athletes and coaches, and it's a really good partnership that we've formed."
U.S. Marine Corps (USMC) reports are created independently of American Military News (AMN) and are distributed by AMN in accordance with applicable guidelines and copyright guidance. Use of USMC and U.S. Department of Defense (DOD) reports do not imply endorsement of AMN. AMN is a privately owned media company and has no affiliation with USMC and the DOD.