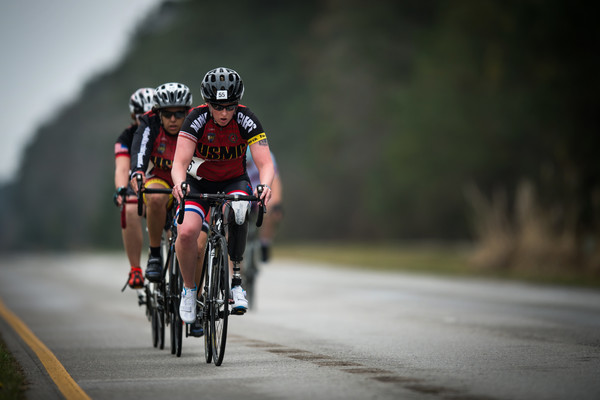 MARINE CORPS BASE CAMP PENDLETON, Calif. —
Today, sports and athletics have become an outlet for some and a means of staying in good mental and physical shape for others. For the active-duty service members and veteran athletes with Wounded Warrior Battalion-West, sports have brought insurmountable meaning into their lives when at one point they believed there was nothing meaningful left.
Brad Johnson, a cycling coach with WWBn-W, knows there is more to life than whatever brought an end to the military careers of many athletes competing with the unit.
"I hope [sports] removes the label they hear so often," said Johnson, referring to the athletes' disabilities. "It's like being a cancer patient who is constantly reminded they have cancer. Once they get into the pool, onto a bike or onto the rowing machine, it all goes away. They don't see labels anymore. What they see are athletes."
Active-duty Marines and veterans with WWBn-W will be put to the test June 1-9, at the 2018 Department of Defense Warrior Games held at the U.S. Air Force Academy in Colorado Springs, Colo.
The athletes will compete head-to-head in eleven sports categories including swimming, archery, track, field, cycling, sitting volleyball, wheelchair basketball and shooting. They will also be able to compete in indoor rowing, time-trial cycling and powerlifting for the first time this year.
Just as new events are introduced to the games, new faces are introduced to the competition as well.
Lance Cpl. Kira Lavine, air support operations operator, Marine Air Support Squadron 3, Marine Air Control Group 38, 3rd Marine Aircraft Wing, will be competing for her first time in the 50-meter freestyle, 100-meter freestyle, 50-meter backstroke, 50-meter breaststroke, and 200-meter freestyle relay in swimming, and the one-minute sprint and four-minute individual endurance race in indoor rowing.
"I think what I am looking forward to most is that moment when I'm up on the blocks on race day, about to dive in because I know that when I get into the water, I'm going to give it all that I've got," said Lavine with a contagious smile.
Lavine, a former high school water polo-competitor, practices for one hour during her lunch period, five days a week, to prepare for her competition at the games. After her exhausting workouts, Lavine returns to work as an air support operations operator to carry out the rest of her day. She says that swimming gives her a nice break in the middle of her day to do something she loves.
"It's physically strengthening my body and makes me emotionally proud because I see myself getting better" said Lavine. "Whatever I am able to accomplish at the games will be a reflection of the hard work that I have been putting in and I know with everything that I have been putting in, I won't be disappointed."
Retired Master Gunnery Sgt. Carnell Martin, a veteran and athlete with WWBn-W, prepared for more than a year to compete in this year's Warrior Games. There, he will compete in the 100-meter dash, discus, powerlifting, indoor-rowing and wheelchair basketball.
Much like Lavine, Martin puts long hours into the gym to prepare himself for the competition he will face during his respective events.
"I'm looking forward to the experience and the competition," said Martin. "It's one of the bigger achievements that I have accomplished in my life. The Warrior Games is not something you do every day. It's one of those things I can look back on and say, 'I've done that,' and really feel good about it."
To learn more about the DoD Warrior Games, please visit https://dodwarriorgames.com/.