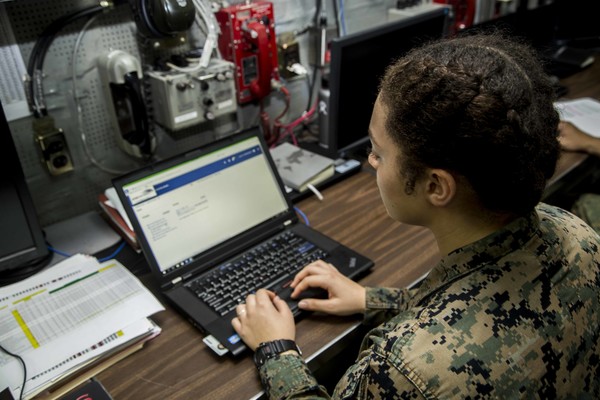 WASHINGTON, D.C. —
The Marine Corps has an improved reporting tool that will come in handy for supply and maintenance activities, increase readiness and offer customization to fit Marines' needs.
More than 23,000 logistics and maintenance Marines rely on Global Combat Support System-Marine Corps, or GCSS-MC, to conduct their daily supply and maintenance operations worldwide. In August, GCSS-MC was upgraded from Release 11 to Release 12, in a joint effort between Program Executive Officer Enterprise Information Systems, Marine Corps Systems Command, Headquarters Marine Corps C4, Marine Corps Cyberspace Operations Group, Kansas City Information Technology Center, and Marine Corps Installations and Logistics.
"This critical upgrade provides our Marines with a modern reporting and business intelligence capability, strengthens the Marine Corps' cybersecurity posture, increases audit readiness and sets the conditions for fielding additional capabilities in the future," said Chris Melkonian, GCSS-MC deputy program manager. The GCSS-MC program falls under PEO-EIS and receives manpower and technical support from MCSC. "The platform significantly reduces the amount of time and work it requires for Marines to go from data to decision."

GCSS-MC R12 offers the latest software, security patches and tools to protect Marine Corps supply and maintenance information. Based on Marines' duties and preferences, they can build a customizable dashboard and view reports populated with the most recent data.
"The old reporting tool simply pulled data and displayed it, but with this new tool, Marine report writers can design reports with imbedded analytics, and create and share dashboards," said Capt. Ross Hrynewych, GCSS-MC project manager. "All users can customize their own dashboard views of reports, and [see] what's in the warehouse, the status of their equipment, modifications that have been applied and more. The tool helps support supply chain planning activities to ensure Marines can easily and clearly report readiness to their commanders."
The transition to R12 was no easy feat, Melkonian said. All of the capabilities from R12 were transferred to the new platform. The GCSS-MC team also had to sort through 40,000 lines of code to confirm it was written correctly in order for the program to be customized for what the Marine Corps needed it to do. Additionally, the team gathered input from Marines to gauge what reports were important to them and included the reports in a robust catalog in the upgrade.
The program office also wanted to execute a seamless transition for deployed Marines and accomplished this with the 13th Marine Expeditionary Unit. The MEU performed required actions and testing to establish and troubleshoot GCSS-MC R12. Marines shipboard were back online with full optimization within two days, a process that is typically performed pier-side over several days prior to deployment.

"The MEU S-4 and S-6 prioritized GCSS-MC optimization, and it was truly a team effort," said Maj. Robert J. Hillery, 13th MEU logistics officer. "The program office and I [Marine Expeditionary Force] G-4 and G-6 provided crucial guidance and support, the Navy supported all external networking requirements, and data Marines within the MEU knocked it out of the park."
Usually when the Marine Corps completes an extensive upgrade to an IT system, there is a period of six to eight weeks of increased volume of help desk tickets associated with bugs in the system, Melkonian said. However, less than a week after go-live, GCSS-MC R12 was already back to normal operating procedures demonstrating minimal impact to and a smooth transition for the operating forces.
"I encourage Marines to learn the capabilities of the tool and play around with it, because once they fully understand the power of it, I know they will love the upgrade," said Hrynewych. "The new tool could save maintenance management officers time, make their jobs easier and help them create reports faster."
Melkonian said the upgrade opens new doors for the Marine Corps to potentially adopt more robust tools for electronic data entry in the future.
To learn more about GCSS-MC R12, visit https://gcssmc-trng.gcds.disa.mil/index.htm. Be sure to watch the Key R12 Benefits video at the bottom of the page before taking the R12 Reporting class under the R12 Delta training link.