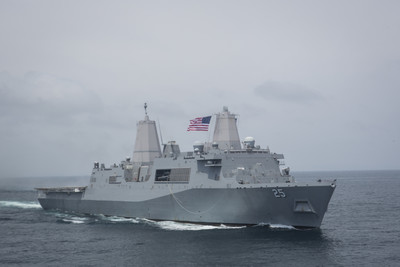 Nov. 29, 2018 — VALPARAISO, Chile (NNS) – Littoral Combat Group One, comprised of USS Somerset (LPD 25) and USS Wayne E. Meyer (DDG 108), arrived in Valparaiso, Chile, on Nov. 29 where they will participate in festivities celebrating the bicentennial of the Chilean Navy and in the Eleventh International Maritime and Naval Exhibition and Conference for Latin America (EXPONAVAL).
Sponsored by the Chilean Ministry of Defense and the Chilean Navy, EXPONAVAL is the major naval exhibition for Latin America on the Pacific coast. The four-day event is aimed to focus on naval defense and maritime security issues.
The U.S. Navy's participation helps strengthen relationships and enhance interoperability between partner nation's forces.
"The Chileans have a rich naval tradition," said Capt. Ken Coleman, Commodore, Littoral Combat Group One. "As proud partners, we feel fortunate for this opportunity to work alongside our fellow Sailors."
The partnership between the U.S. and Chile reflects the enduring friendship and solidarity between the United States and the nations of the Americas, who routinely work together to support security and stability in the region.
"The U.S. remains a strong partner with Chile," said Capt. Stewart Bateshansky, commanding officer of Somerset. "We [the U.S.] have supported this event in the past and will continue to do so in the future. It is very important for us to continue working with Chile's Navy, to continue our ongoing partnership."
As part of EXPONAVAL2018 and the celebration of the Chilean Navy's 200th Anniversary, USS Somerset and USS Wayne E. Meyer will participate in the Parade of Ships on Dec. 2 and a reception hosted onboard USS Somerset.
At the conclusion of the in port period, the ships will get underway to participate in an array of multi-nation naval training exercises to include various types of ship handling, communications exercises, passenger transfers and gunnery exercises.
Guided-missile destroyer USS Wayne E. Meyer is based out of Pearl Harbor. USS Somerset is a San Antonio-class amphibious transport docking ship, based out of San Diego.
Littoral Combat Group One is deployed in support of the Enduring Promise Initiative to reaffirm U.S. Southern Command's longstanding commitment to the nations of the Western Hemisphere.