This report originally publishes at marines.mil.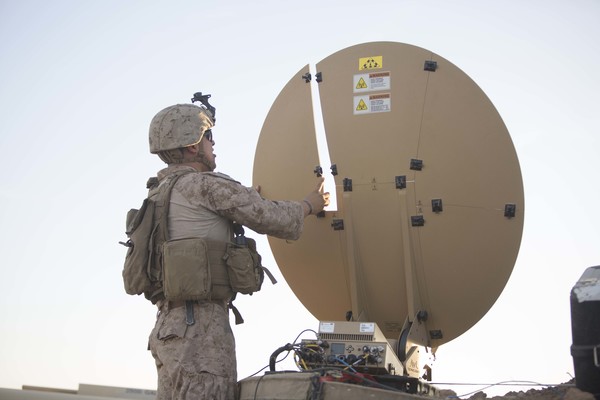 CAMP PENDLENTON, Calif. —
What if you were lost and alone in the dark with only a flash light to guide you? Would it be enough to give you a sense of security and confidence?
Well this is an all-too realistic feeling for military commanders who conduct multi-level operations in a battlespace where the conditions and environment are uncertain. Having proficient members of a communications team, designed to employ versatile and mobile telecommunications equipment from an austere environment, reduces that uncertainty. It provides confidence for the commanders and their troops around the world and at sea.
Marines like Cpl. Trevor Green, a data network specialist from Edon, Ohio, are one of the few individuals that served in the 15th Marine Expeditionary Unit's communications department aboard the amphibious assault ship USS America. The communications department acted as that flashlight during the 15th MEU's recent deployment and was spread across the entirety of the America Amphibious Ready Group.
Green and a small communications team attached to the 15th MEU's reconnaissance element in Hawaii, provided real-time communication to the MEU commander during training, which facilitated voice, video, and data from a small, portable satellite terminal. The team also provided imagery over high frequency communications from the beach back to the ship, nearly 1,000 nautical miles away.
"The rapid response kit team trained really hard during the pre-deployment training period," said Maj. Matthew Bowman, the communications department officer-in-charge. "We were able to send rapid response teams ashore [in Hawaii, Singapore, Djibouti, and Iraq] and push secure voice, video, and data back to the ship with a very small foot print. That is a huge capability that we have, and it supports the reason we exist as Marines on ship; to be able to project power ashore quickly."
The communications section served as the vital link amongst Marines embarked on the three ships of the America ARG, the MEU commander and his teams operating in more than 22 different countries throughout U.S. Central and Africa Command's areas of responsibilities. The communications Marines aboard the America and the teams on the ground, provided real-time reports and instructions to the leadership operating in remote areas and kept the commanders of higher headquarters in different time zones informed.
"It doesn't matter if you're setting up for an infantry battalion, a Marine Expeditionary Unit, or a Marine Expeditionary Force, the purpose of communications is to enable command and control for the commanding officer" said Bowman. "The unique capabilities of MEU communications, such as the Rapid Response Kit, have to allow us the ability to communicate beyond line of sight in austere conditions."
However, installing and employing this critical capability doesn't just happen overnight; each member of the section prepares for this over a span of several months with constant evaluations and training events.
"A lot of the teams worked together prior to the deployment; which is what set us up for success – a lot of prior training on subjects like: beyond line of sight communications, high frequency and detailed training in network operations – both on the network and server side," says Bowman. "Being highly skilled in the basics of their Military Occupational Specialty, allows the Marines to translate those skills onboard a ship, land and operating with Special Operations partners."
The rapid response kit team is just one of the 15th MEU's many capabilities. Combing training and dedication, the communications team fosters the perfect battle-rhythm; making the 15th MEU's deployment a truly unique rapid crisis-response and solution force.
U.S. Marine Corps (USMC) reports are created independently of American Military News (AMN) and are distributed by AMN in accordance with applicable guidelines and copyright guidance. Use of USMC and U.S. Department of Defense (DOD) reports do not imply endorsement of AMN. AMN is a privately owned media company and has no affiliation with USMC and the DOD.