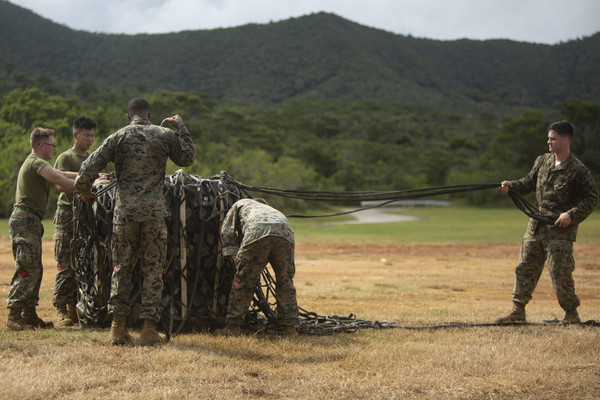 OKINAWA, Japan —Landing support specialist Marines with 3rd Transportation Support Battalion, 3rd Marine Logistics Group, conducted external and internal lifts at Landing Zone Dodo, Okinawa, Japan, June 6, 2018.
External and internal lifts consist of Marines on the ground hooking a cargo load onto aircraft while it hovers only feet above them.
"It's very hot under the [aircraft] while performing this type of training," said Lance Cpl. Connor Ohlsson, a landing support specialist with 3rd TSB, 3rd MLG, and native of Hanover, New Jersey. "It's fun doing these operations and watching the new guys experience the down draft."
While deployed, U.S. service members may not always have certain means of receiving supplies. Using external and internal lift methods allow for easier access to austere environments.
According to Sgt. Mike McDaniel, a landing support specialist with 3rd TSB, transporting cargo by aircraft is the fastest and safest way to provide resupply to units in hostile environments or to deliver supplies for humanitarian support.
The Marines also ramped up the real-world application of the training by using MV-22 Ospreys to conduct external lifts. The Osprey is a tilt-rotor aircraft capable of performing heavy lift operations.
McDaniel, a native of South Carrollton, Kentucky, explained how there are many perks to using the MV-22 Osprey in this type of operation.
According to McDaniel, the Osprey can carry up to 15,000 pounds of external cargo and it decreases the potential dangers of improvised explosive devices and ground attacks.
"This training is important [because] it makes it to where we can get to ground-deployed units no matter where we are," said Sgt. Dino Houlis, a landing support specialist with 3rd TSB and native of Long Branch, New Jersey.
This training allows the Marines to refine and retain skills necessary to conduct prompt and operationally successful external and internal lifts.