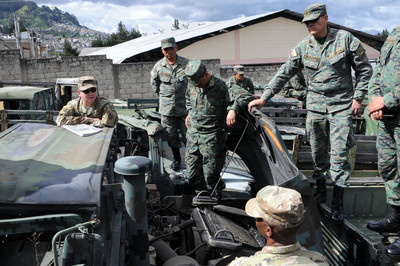 June 20, 2018 —
QUITO, ECUADOR – The Ecuadorian military hosted a team of Soldiers from the Kentucky National Guard recently during a military-to-military event through the State Partnership Program.
The event focused on vehicle maintenance procedures, involved Guardsman visiting maintenance shops at an Army base in the capital, Quito, and also a Marine base in Guayaquil, June 3-9.
The Kentucky National Guard has been partnered with Ecuador since 1996, and has collaborated in more than 70 missions in both countries.
The partnership is enhanced by conducting exchanges focusing on military and civilian best practices in areas which include: air and land forces interoperability, disaster management, professional development, engineering, aviation, medical support and communications.
"This trip re-establishes the partnership with the Ecuadorian military," said Capt. Eric Green, 149th Brigade Support Battalion Operations officer and Maneuver Area Training Equipment Site Assistant Superintendent. "Our focus was to assess the status of the Army and Marine maintenance and supply programs, while introducing them to new equipment and systems."
With the SPP, the Ecuadorian military has the ability to purchase U.S. products through a Letter of Request.
"This visit means to revive cooperative relations between the military institutions of both countries regarding the aspects of doctrine, techniques, in the determination of needs and processes of obtaining the necessary spare parts and also the execution of the maintenance plan for the HMMWV vehicles," said Lt. Col. Milton Sanchez, Ecuadorian Army Maintenance Battalion commander.
The Kentucky Guard maintenance team conducted training on preventative maintenance, plans, and shop procedures with the mechanics and leadership of the Logistics Command "Reino de Quito" Number 25.
"The support we receive when it comes to technical knowledge is extremely beneficial," said Staff Sgt. Manuel Calvopina Soto, mechanic for the Ecuadorian Logistics Command. "Just for example, knowing we have the ability to restore several vehicles we thought were dead-lined assists us greatly, thanks to the team's expertise."
According to Maj. Jamie Carta, State Partnership Program Coordinator, cooperative training exercises such as this, and key leadership engagements help our Service Members learn from each other and build lasting relationships that will continue to build our forces for the future.
"This visit was very productive because it allowed both our militaries to come together and determine a proper form of executing the maintenance and operability of our vehicles," said Sanchez.
"The vision we have for this partnership is to become a model of cooperation between our military technical institutions that will allow the successful recovery of American tactical vehicles."
The Guardsmen left confident in meeting the intent of their leadership to assess the Ecuadorian vehicle fleet and supply systems.
"I believe this trip helped to establish a sense of trust in our abilities and dedication to helping the Ecuadorian military," said Green. "They were wonderful hosts and treated us as distinguished guests."
"Moving forward we hope to further strengthen the partnership with training opportunities in Ecuador and in Kentucky," he said.