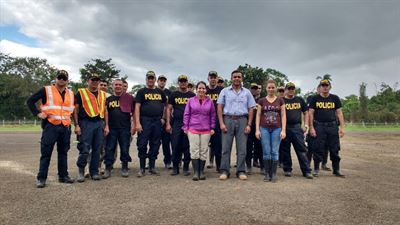 LIMON, Costa Rica, Dec. 14, 2016 —
Joint Task Force Bravo sent two personnel from Soto Cano Air Base in Honduras to Costa Rica to assist in damage assessment in the aftermath of Hurricane Otto, which hit the country on Nov. 26.
Maj. Rosemary Reed, JTF-B Civil Affairs Deputy Director and 1st Lt. Jose Rivas, Engineering Project Officer, were in the affected area of Limon Nov. 28 through Dec. 4, arriving two days after the hurricane hit.
The team provided a humanitarian assistance assessment and engineer requirements to the hardest hit areas of the country. The hurricane's unusually southern formation in the Caribbean Sea led to impacts in this region, which is rarely affected by tropical cyclones.
"JTF- Bravo sent subject matter experts to support the Costa Rican country team with damage assessment and humanitarian assistance projects," said Reed.
The team traveled with country team leaders and the Costa Rica National Emergency Commission to the heaviest hit and most damaged areas.
Reed said it was a bit of a shock upon viewing their initial assessments as they did not know what to expect.
"We realized we needed to help them with situational awareness. It was a great way to start building partnerships," she said.
Reed also said there was a lot of capacity building and she and her counterpart made a lot of progress throughout the time there.
"One of the most important things we did was help them to plot and mark locations to send search and rescue teams and other assessment teams to," she said.
"I assisted the Ministry of Public Works and Transportation (MOPT) in bridge assessment and evaluation." said Rivas. "I advised and assisted with the geo-spatial inventory of bridges and key infrastructure damage location in order to create a "priority list" for reconstruction efforts. I also assisted the Director of Bridges for MOPT in initiating the creation of an inspector manual. The manual will help inspectors and volunteers identify the type of bridge, measure key features that determine the bridge's load capacity and note locations and the extent of damage."
Hurricane Otto brought unprecedented rains which caused mud slides moving massive amounts of sediment, timber and debris. This amount of mass traveling through the river took with it numerous vehicular and pedestrian bridges.
"MOPT is requesting to create a partnership with the U.S. Army Corps of Engineers in reconstructing a pedestrian bridge that has been washed away into a vehicular bridge that connects two national routes with the airport," said Rivas.
"We also supported communication," said Reed. "Near the end of the week Costa Rican fire fighters were talking to pilots who were talking to geologists and other disaster response organizations. It was a true team effort."
"This was my first disaster response and I'm grateful that JTF-B was able to respond. Interacting with people in the most affected area and telling them who I represent really energized their hopes for recovery and reconstruction. We showed them SOUTHCOM, JTF-Bravo and the United States of America cares about them, their homes and their recovery. It was a gesture of goodwill at a point in time where they really need help."
Reed said there is still work to do there, but she felt comfortable leaving when she did with the tools and education her team was able to provide the Costa Ricans.
"We want each country throughout Central America to feel we are their Joint Task Force," said Reed. "JTF-Bravo remains trained, postured and prepared to respond to disaster situations throughout the CENTAM region. During our time there, we moved towards building a trusting friendship, cooperative relationship and Partner of Choice."