This report originally published at southcom.mil.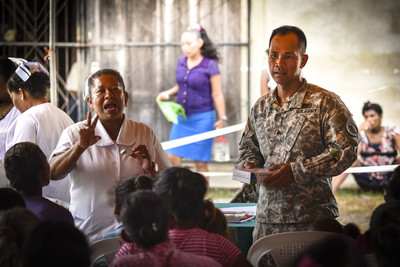 Soto Cano Air Base, Honduras, April 6, 2018 —
Service members from the Joint Task Force-Bravo Medical Element participated in a Medical Readiness Training Exercise in Waspam, North Caribbean Autonomous Region of Nicaragua, March 19-24, working side by side with personnel from the Nicaraguan Army and Ministry of Health.
"One of the highlights was being able to work with the Nicaraguan military and the Ministry of Health in the area," said Staff Sgt. Nancy Gonzalez, Non-commissioned officer in charge of the mission. "It's been a wonderful experience not only for myself but for everyone that was on the team. We worked hard, learned a lot and continued and executed as needed."
A team of surgeons and operating room professionals from the JTF-Bravo Mobile Surgical Team also contributed to the medical exercise, performing surgeries that ranged from Inguinal Hernias Repairs, Open Cholecystectomies, Varicocelectomies and Cleaning and Debridement of various types of infected wounds.
The joint team treated 259 dental patients, 1,693 medical patients, 19 general surgeries and gave preventive medicine classes to 1,702 people.
U.S. Southern Command (SOUTHCOM) reports are created independently of American Military News (AMN) and are distributed by AMN in accordance with applicable guidelines and copyright guidance. Use of SOUTHCOM and U.S. Department of Defense (DOD) reports do not imply endorsement of AMN. AMN is a privately owned media company and has no affiliation with SOUTHCOM and the DOD.