This report originally published at southcom.mil.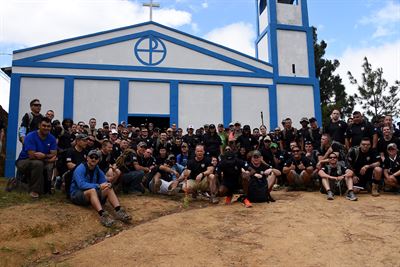 COMAYAGUA, Honduras, Feb. 9, 2017 —
Approximately 180 personnel from Joint Task Force-Bravo participated in a four-mile round-trip hike to the village of El Paraiso on Saturday, Feb. 4, to deliver food and supplies to the struggling Honduran community. These hikes are a part of the Command Master Religious Program that executes events to provide relief to areas in the underdeveloped Comayagua Valley that surrounds Soto Cano Air Base.
For each chapel hike, servicemembers and civilians of JTF -Bravo hike and deliver care bags of groceries and school supplies to a community that is identified by the Honduran World Food Program. Hikes are funded by a suggested donation of 20 dollars by participants for supplies that are packed into their own backpacks and brought to the designated community.
"The people from El Paraiso were really happy to receive the servicemembers and civilians," said village Friendship Chapel Secretary Marian Santos. "The economic situation in our country is very difficult even to get the basic grains to feed families. I can say that the bag of 20 to 25 pounds of food will help meet needs for at least one week. I could see in their faces that they were very happy."
JTF-Bravo Command Chaplain, Maj. Steve Cuneio, says that they strive to do chapel hikes every eight to twelve weeks.
"After coordinating with the Honduran World Food Program, we initiate the planning of the hikes by making contact with the local leaders of the community in need," said Cuneio. "We then also coordinate with other Soto Cano agencies for support such as Joint Security Forces, medical folks, and transportation to work the logistical aspects such as security for the hikers, how we are going to get there and medical personnel available if needed."
According to Cuneio, chapel hike events aim to alleviate community suffering by meeting basic needs, enhancing security and stability in the local region, and demonstrating the positive impact of American values and ideas.
Cuneio says service member's morale and sense of well-being is enhanced after a chapel hike because they see how they were instrumental in helping meet the needs of local Honduran families.
"These hikes are great way to spend some time giving to the communities that surround the base," said Army Support Activity Commander, Col. Kevin Mcaninch. "The impact of the relationships we build and the impact we have is enduring. When you see the look on the faces of the people you are helping, especially the children, it puts it all in perspective how blessed we are, and how important it is to the people there to receive our help."
"Chapel Hike 71 was a huge success," said Cuneio, "We had 180 hikers who made a positive impact on a needy community. Hikers had fun, connected with each other, learned about the surrounding Honduran culture, got some good exercise, and immediately asked after the chapel hike was over when the next one is."
An important aspect of these hikes are to bolster U.S. and Honduran partner nation relations in the immediate area and give JTF-Bravo personnel an opportunity to volunteer their time and resources.
U.S. Southern Command (SOUTHCOM) reports are created independently of American Military News (AMN) and are distributed by AMN in accordance with applicable guidelines and copyright guidance. Use of SOUTHCOM and U.S. Department of Defense (DOD) reports do not imply endorsement of AMN. AMN is a privately owned media company and has no affiliation with SOUTHCOM and the DOD.