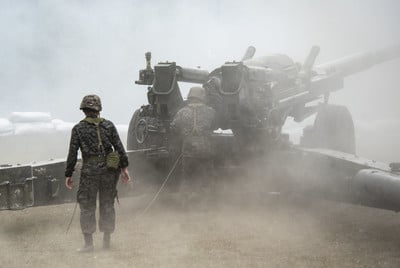 SOTO CANO AIR BASE, Honduras, Dec. 12, 2018 — Joint Task Force-Bravo representatives assigned to the Army Forces Battalion attended Artillery Day with their Honduran counterparts at Zambrano, Dec. 4.
During the event, which celebrated Santa Barbara, the patron saint of artillerymen, the Honduran armed forces displayed their training and capabilities through weapons demonstrations including various types of ground weapons, tanks and aircraft.
Captain Certilleria Jack Jairo Mendoza Durcia, 1st Artillery Battalion officer, said the event also marks the end of the training year for Honduran soldiers and boosts their morale.
One new aspect of the event is the F-5 Tiger II, which Honduran pilots used to show off air combat capabilities. Some of the other demonstrations included the M102x155mm Howitzer, M198x105mm Howitzer, M40 recoilless rifle, M55A2 anti-aircraft guns. M60 machine guns and Scorpion tanks.
Col. Gamilh Nasser, liaison between JTF-B and Honduran forces, said that the Honduran army is consistently improving their skills and invited their U.S. counterparts so that they could see what is being done and also to let them know that they are appreciative of the U.S.
JTF-Bravo aims to help provide security and stability to the Central American region and being an ally to the Honduran military is just one of the many ways they further their goal. By spending time with allied neighbors and learning about their capabilities, the understanding and bond between the two forces strengthens.