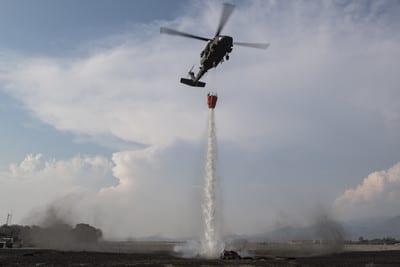 SOTO CANO AIR BASE, Honduras, April 16, 2019 —
Firefighters from five Central American countries and Joint Task Force – Bravo participated in Central America Sharing Mutual Operational Knowledge and Experiences (CENTAM SMOKE) exercise, from April 8 – 12, here.
CENTAM SMOKE, a biannual event hosted by the 612th Air Base Squadron, brought together fire fighters from Honduras, Costa Rica, Belize, Guatemala and El Salvador to train with U.S. Air Force members as well as develop bonds and understandings of one another's culture with team building training.
"This week we had CENTAM SMOKE 19-01," said Master Sgt. Troy Romans, 612th Air Base Squadron assistant chief of training, "Its an exercise where we bring in all the other Central America countries here to Soto Cano to practice firefighting tactics and techniques and share our experiences and differences from around this area."
The training included safety briefs and information, breathing apparatus indoctrination, and several live fire scenarios.
"We experienced several different aspects of the firefighter world like structural fires, some extrication on cars," said Norman Chang-Diaz, Costa Rica National Fireman Academy director. "We also did some wildfires, which was very nice. We did some of the aircraft trainers with real fire."
The weeklong exercise also consisted of a fire-fighting challenge with everyday being a different journey
"Every day had its own difficulty," said Chang-Diaz. "I would say the second day in particular it was particularly hot because it rained the night before and we had to do the challenge; so we were sweating the whole day. In general, everyday had its own difficulties, but they were not bad."
Some of the training scenarios placed the mixed groups of CENTAM firefighters in temperatures of more than 600 degrees. Their gear helped provide protection from the heat, but also allowed them to meld bonds of teamwork and friendship.
"You know we spend the whole week with these guys talking and chatting and even with the language barrier we are still able to communicate and we make a whole lot of connections each time we have this," said Romans. "The greatest benefit for me is just the experience of bringing all of these guys together and it's not something I have seen any where else in my career. Brining all these different countries together to do this throughout the week, which would be the greatest benefit seeing these different cultures and how they react with emergency situations."
Chang-Diaz, agreed that the best part of the training was the camaraderie that was built.
"I would say the experience of sharing knowledge and sharing ideas with the rest of the teams. We are in countries that are very close together and sometimes we end up doing things together," Chang-Diaz said. "That alone was one of the best things I can bring back to our home country and for sure. We also wanted to invite everybody to come to Costa Rica and train with us as well."
While expressing his satisfaction of the training he also wanted to thank the Airmen for hosting the exercise.
"Everyone was so nice and so helpful that we cannot say thank you enough," Chang-Diaz continued. "We were so excited and thrilled by the way you guys treated us and we are thankful for the opportunity and we feel privileged that we were able to come here."