This report originally published at allhands.coastguard.dodlive.mil.
Posted by Jasmine Mieszala, Friday, November 30, 2018
Written by Adm. Karl Schultz
Commandant of the Coast Guard
Please join me and Master Chief Petty Officer of the Coast Guard Jason Vanderhaden for a "Virtual Coast Guard Town Hall" on my Facebook page, @CommandantUSCG, Tuesday at 2 p.m. If you don't have access to Facebook, you can watch it here.
We'll discuss our service's recent successes, the Coast Guard Strategic Plan 2018-2022 and take questions from the field. You can submit questions in advance of the Facebook event on my page or tweet them to me at @ComdtUSCG on Twitter. We'll also be taking questions live during the Town Hall, and I encourage all active duty, reserve, civilian, and auxiliary Coast Guard members to watch, share and ask questions.
Coast Guard leaders at all levels should afford crews the opportunity to participate in this event as a group or individually as operations allow. It's important that we take time to focus on readiness and ensure our workforce has the information and tools they need to be successful.
I look forward to talking with all of you. Semper Paratus!
Instagram/Facebook: @CommandantUSCG
Twitter: @COMDTUSCG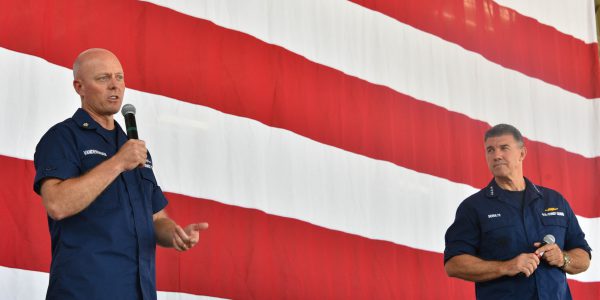 Comments
comments
U.S. Coast Guard (USCG) reports are created independently of American Military News (AMN) and are distributed by AMN in accordance with applicable guidelines and copyright guidance. Use of USCG and U.S. Department of Defense (DOD) reports do not imply endorsement of AMN. AMN is a privately owned media company and has no affiliation with USCG and the DOD.