Originally published at northcom.mil.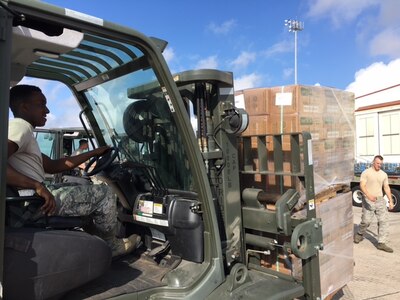 JOINT BASE SAN ANTONIO-LACKLAND, Texas —
The Federal Emergency Management Agency stood up an Incident Support Base at Joint Base San Antonio-Lackland Kelly Field to aid Hurricane Maria relief efforts with support from the 502nd Air Base Wing Sept. 21.
The ISB, the third such support hub hosted by JBSA and the 502nd ABW over the last month, will help posture relief supplies through a cargo deployment function for transport to areas devastated by the storm, primarily in the Caribbean.
"Initially, we are bringing supplies that are already at the JBSA-Seguin ISB here to Kelly," said Capt. Nate Johnson, 502nd Logistics Readiness Squadron material management flight commander at JBSA-Lackland. "Once the cargo arrives here, we are receiving it and then palletizing it so it's ready for air transport."
Johnson explained the ISB was ready to accept up to 27 truckloads of cargo, using a 24-hour operations and 12-hour shifts with approximately 50 people.
In addition to the 502nd LRS, Airmen from the 12th Flying Training Squadron at JBSA-Randolph and from the 26th Aerial Port Squadron at JBSA-Lackland Kelly Field are also augmenting to assist with cargo operations.
"Having the assistance of Airmen from all over JBSA is extremely critical to what we are trying to accomplish here," Johnson said. "(502 LRS) has been going non-stop since Hurricane Harvey hit, so having the support of our mission partners is vital right now."
The augmentees are also helping day-to-day operations flow normally instead of being completely side-tracked due to the Maria operation, Johnson said.
Jumping in to assist FEMA and aid those in need in the immediate aftermath of Hurricane Maria is JBSA doing its part, said U.S. Army Col. Lee Flemming, 502nd ABW and JBSA vice-commander.
"To everyone in the affected areas, my thoughts and prayers are with you," Flemming said. "JBSA stands ready to support in anyway and will provide every resource we can."
"We are absolutely proud of all of our JBSA personnel out here making a difference in the lives of those hard hit by the storm," Flemming said. "This is why we serve."
U.S. Northern Command (NORTHCOM) reports are created independently of American Military News (AMN) and are distributed by AMN in accordance with applicable guidelines and copyright guidance. Use of NORTHCOM and U.S. Department of Defense (DOD) reports do not imply endorsement of AMN. AMN is a privately owned media company and has no affiliation with NORTHCOM and the DOD.