This report originally published at southcom.mil.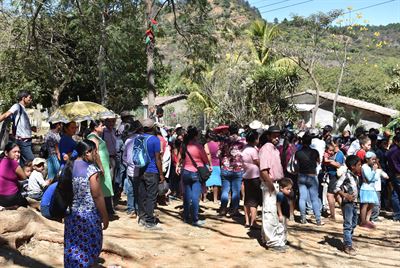 LA PAZ, Honduras , Feb. 10, 2017 —
As early as 6 a.m., patients were gathered outside a school located in the small village of Estancias to receive basic medical attention.
Personnel from Honduran Ministry of Health representatives, Honduran military personnel, members of Joint Task Force – Bravo and the U.S. Agency for International Development, partnered to provide basic medical services to the population of Estancia during a medical readiness exercise from Jan. 31 to Feb. 1.
Medical readiness training exercises (MEDRETES) help servicemembers train on their skills to provide humanitarian assistance, a key mission for the U.S. Southern Command and JTF-Bravo, under austere conditions in remote areas, while developing partnerships with the host nations. MEDRETEs take place throughout Central America and provide services such as immunizations, preventive medicine, dental services, basic medical care and pharmacy services.
"It's very important that we maintain our practice of medicine in austere environments." said Staff Sgt. Matthew Sebastian, who was in charge of patient flow for the MEDRETE. "We are also creating good will towards our Central American neighbors because often times these patients don't see medical providers for a long time and this is a great way to make sure they understand that we appreciate them as host and partner nation brothers and sisters."
MEDEL personnel worked side by side with local nurses and physicians, as well as Honduran soldiers who facilitated translations between the patients and providers.
A preventive medicine class was also given where people learned about the importance of sanitary precautions for the prevention of diseases, as well as personal hygiene.
After completing the class, patients received vitamins and medication, then were sent to a screening section prior to seeing the providers. If they needed to see a dentist they were guided to that section. Women who needed specialized care were taken to the women's health section.
"Some of the most common illnesses that we saw were aches and pains, dehydration and communicable diseases," said U.S. Army Capt. Nathan Hagen, critical care nurse at the JTF-Bravo Medical Element. "This was a very rewarding experience. I think that we managed to blend very different groups and make a cohesive unit between different organizations."
USAID also contributed to making this mission unique by providing a nutrition station where mothers were taught how to make fortified tortillas by adding radishes and beet roots to the flour, allowing them to provide balanced and necessary nutrients for their children. This was the first time that the USAID nutrition project was part of a MEDRETE mission.
Honduran Army 1st Lt. Wilmer Perdomo, who worked as an interpreter during the two day mission, also highlighted the importance of working together. "We are stretching our forces and improving our relationships. We are supporting each other and it's really helpful for our people."
The partnership formed by the combined personnel and organizations helped provide care for more than 1,000 patients during the two day mission.
MEDRETEs take place throughout Central America and provide services such as immunizations, preventive medicine, dental services, basic medical care and pharmacy services.
U.S. Southern Command (SOUTHCOM) reports are created independently of American Military News (AMN) and are distributed by AMN in accordance with applicable guidelines and copyright guidance. Use of SOUTHCOM and U.S. Department of Defense (DOD) reports do not imply endorsement of AMN. AMN is a privately owned media company and has no affiliation with SOUTHCOM and the DOD.