This report originally published at defense.gov.
Nearly 50 high school and collegiate coaches from across the United States attended Marine Corps Recruiting Command's 2018 Coaches Workshop, providing coaches and key civilian influencers from diverse backgrounds about Marine Corps leadership styles and characteristics and career opportunities as a Marine officer.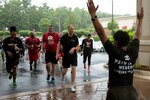 U.S. Department of Defense (DOD) reports are created independently of American Military News (AMN) and are distributed by AMN in accordance with applicable guidelines and copyright guidance. Use of DOD reports do not imply endorsement of AMN. AMN is a privately owned media company and has no affiliation with the DOD.