This report originally published at defense.gov.
Joint Task Force 5-0 in Hawaii is helping authorities handle evacuations, provide security and monitor air quality as Mount Kilauea spews out clouds of toxic gas and lava destroys homes in its path.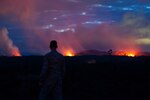 U.S. Department of Defense (DOD) reports are created independently of American Military News (AMN) and are distributed by AMN in accordance with applicable guidelines and copyright guidance. Use of DOD reports do not imply endorsement of AMN. AMN is a privately owned media company and has no affiliation with the DOD.