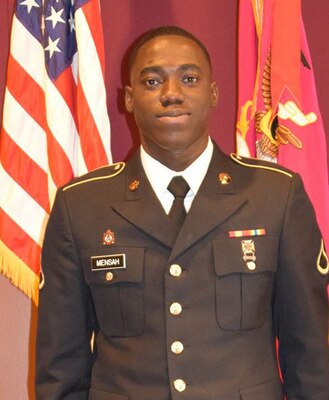 NEW YORK CITY, Feb. 21, 2018 —
Army National Guard leaders recently honored a New York Army National Guardsman who died while rescuing his neighbors during the deadliest fire here in more than 25 years.
Army Pfc. Emmanuel Mensah is credited with saving four lives as he returned to the building three times before he was overcome by smoke. Including Mensah, 13 people died in the blaze.
Mensah posthumously received two medals for valor during a ceremony for the family at Fordham University here Feb. 16, including the Army's highest award for bravery outside of a combat zone.
Army Lt. Gen. Thomas J. Kadavy, director of the Army National Guard, presented the Soldier's Medal to Kwabena Mensah, Emmanuel's father.
'Unselfish Soldier'
"Difficult though it may be," Kadavy said, "please think of this ceremony as an opportunity not to mourn, but to celebrate Private First Class Mensah, an unselfish soldier of incredible bravery, who sacrificed his own life to save several others, and while attempting to save more."
Army Secretary Mark T. Esper approved the posthumous award of the Soldier's Medal for Mensah Jan. 1.
"The Soldier's Medal is an award that no one sets out to receive," Kadavy said. "If any of us could change the circumstances that bring us together this morning, we certainly would do so."
Fire department investigators say the blaze was started by a young boy playing with a gas stove. According to investigators, the fire spread after the child's family escaped the apartment and neglected to close the apartment door behind them.
"After quickly escaping the fire, Private First Class Mensah could have remained safely outside," Kadavy said. "But, knowing that residents were still inside, it was not in his nature to stand by without doing whatever he could to help them escape the deadly inferno that was raging through their homes.
When firefighters were able to enter the building, they discovered Mensah's remains and believe that based on the location of the body, he was still seeking to rescue people, according to statements provided to New York Army National Guard officials.
"Private First Class Mensah's heroic actions are in keeping with the highest traditions of military heroism and selfless service and reflect great credit upon himself, the New York Army National Guard and the United States Army," the award citation says.
"Today is about the recognition of a family's sacrifice and the military recognizing their own," said Army Command Sgt. Maj. Javier Lugo of the 104th Military Police Battalion, the higher headquarters of Mensah's intended unit. "This is the highest non-combat award given by the U.S. Army for going above and beyond the call of duty to save another person's life."
Lifelong Dream to Serve
Mensah's dream was to join the military, the fallen soldier's father said.
"He fulfilled his dream, what he wanted to do," Kwabena Mensah said of his son. "He was proud of being [in] the American military. He was so proud of that."
Richard White, New York State's deputy secretary for public safety, presented the New York State Medal for Valor to the Mensah family on behalf of Gov. Andrew M. Cuomo.
Mensah's family immigrated to the United States from Ghana and Mensah was a permanent legal resident. He became a naturalized U.S. citizen on Sept. 21, 2017.
"He came to exemplify what is best about his adopted country and Ghana, his country of origin," White said. "What that means is that when others would run from the inferno, our Pfc. Mensah ran into the blaze."
"It's given we, the family members, some peace and some joy and hope that even though we have lost him physically, his memory still lives on," Gloria Addo Nuamah, Mensah's sister, said. "People will remember him for this bravery and that's what this ceremony stands for me."
Mensah, who enlisted in the New York Army National Guard in December 2016, had recently completed training to serve as a wheeled vehicle mechanic.
At the time of his death, he was still assigned to Alpha Company of the New York Army National Guard's Recruiting and Retention Battalion, but was slated to begin drilling with the New York Army National Guard's 107th Military Police Company at Fort Hamilton in Brooklyn in January.
Mensah was buried with full military honors Feb. 17, at Woodlawn Cemetery in the Bronx.
"Every soldier has a story," Lugo said, "This just goes to show how all of our soldiers are special."