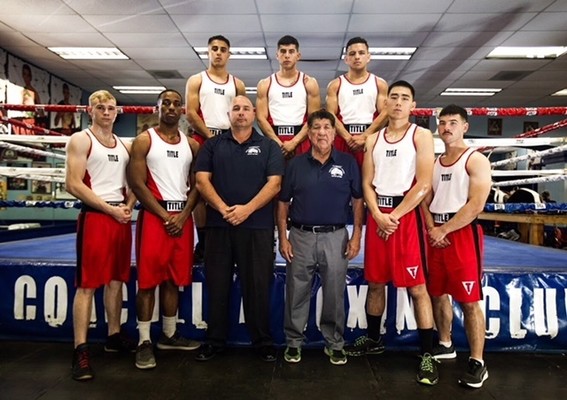 CAMP PENDLETON, Calif. —
Three days, five hours, two minutes and counting. This is the countdown clock that runs relentlessly through the minds of two young men each morning. Each day that passes is one day closer to their ultimate test. They, along with six fighters, have been hand-selected and groomed for this fight.
The bell rings, signaling the end of the 8th round. Flashes from photographers temporarily blind the wild-eyed, dazed boxer as he slowly lifts his gloves in the air signaling victory to an insatiable crowd. Sweat mixed with blood from a cut above his eye falls from his face as he leans over his beaten opponent who is trying to regain his balance and come to his feet. "Same time next year," he manages to gurgle out between his slightly swollen lips and mouth guard. He faces the crowd and sees a flash that causes him to stumble back, slipping to the unforgiving ground below.
A young man swiftly sits up in bed, panting and drenched in sweat. "I've had this dream ever since I found out I was going to London to fight the Royal Marines."
In 2017, the Commandant General Royal Marines, Maj. Gen. C.R. Stickland agreed to host a match between fighters from the Royal Marines and the United States Marines 1st Marine Division. The Marines are scheduled to compete in boxing contests on May 3, 2018 at the Commando Training Centre Royal Marines in Lympstone, England, and on May 8 at the Royal Lancaster Hotel in London.
"As Marines, we wear the Eagle, Globe, and Anchor; we aren't individuals anymore. It is this mentality of a warfighter culture and discipline that we must uphold both in and out of the ring," Said George Camden.
Co-Captains George Camden and Michael Captain set the example of what it means to lead from the front. They are preparing for what could arguably be the most important fight of their lives. Both Marines realize bringing the fight to the British Royal Marines is a large undertaking, and neither are taking the challenge lightly. "Although the Royal Marines are our brothers in arms, we still want to take them down," a very confident Camden states. "Our coaches say that these matches are meant to foster comradery and showcase to the rest of the world our commitment to training and operational readiness, but I think everyone just wants to see a good old-fashioned rumble in the ring; the Brits versus the Yanks."
Like any disciplined athletes, Camden and Captain study their opponents in detail. "Before we do any physical boxing, we do what's called 'mental boxing.' We look at former fights just to see what kind of techniques we can pick up and use," said Cpl. Michael Captain. Their opponents have a proud and professional boxing tradition and are a part of a fighting force dating back to the 17th Century. To prepare for these worthy opponents, the United States Marine boxers train with an unwavering determination. "We head to the gym for about 2.5 hours, doing strictly cardio and strength conditioning. We go to chow and then open the gym at 2:30 in the afternoon so that our guys can start coming in depending on their work schedule." This type of dedication and grit to their craft will send shock waves through the Atlantic waters to the British Royal Marines Boxing Team. They've got a fight on their hands, and it's not going to be an easy one.
What drives these young athletes to go above and beyond the lofty call of being a United States Marine and into the boxing ring? Why endure months of intense training and a diet that demands giving up so much? To Captain and Camden, it's more than the prestige and a rewarding mental challenge, boxing is a release.
"I boxed when I was a little kid and my dad was a really good boxer, so good that he went to Nationals, but I wasn't too good at it when I first started," answers 23-year-old Camden of Flint, Michigan. "I didn't understand competition, but now that I'm older I really like competing. It's fun and I like it because I can fight in an area where I'm not going to get into trouble," he says with a slight smirk on his face.
Unlike Camden, 21-year-old Captain of Layfette, Louisiana, did not have the wisdom of a well-versed boxer at his disposal, but he did have all the support in the world from his family. "When I go back home to Louisiana everyone is happy to see me and their faces just glow just because I got out and I'm doing bigger and better things, and they don't have to worry."
Boxing has always been more of a mental test but to these boxers, the physical aspects of the sport presents daily challenges. "My mom always said, and this is the PG version, 'You can't run with the big dogs if you're going to sit on the porch like a puppy.' This sat with me in whatever I did. I have to give it everything I've got. I have to do my very best at least. With London right around the corner, I'm not only representing the Captain family, I'm representing the entire United States Marine Corps. There's no room for doubt or second guessing myself. I know that my brothers and I will continue to fight with everything we have to make our Corps and families proud."
A very calm and collected Camden recollects, "My dad always told me that I'm not Floyd Mayweather, but if I work on my cardio, I can outlast anyone."
They train as a team. They fight as a team. They get better as a team. It is through the rigorous training, long nights, and shared hardships that this team finds comradery and strength. These Marines come from all walks of life and each bring their own unique perspectives and talents to this team with the hopes that their shared diversity along with their mental and physical toughness will result in their victory over the Royal Marines.
"I respect any boxer that gets to lace his gloves. Whether they are bad or good, they still have the courage to get into the ring," recounts Captain. "Every time I go into the ring to spar or to practice, I'm getting better. That's already a mental win for me and the fact that I get to fight in London against someone that has been doing this for years professionally, just stepping into the ring with them would be an honor,"
The United States Marines fight the United Kingdom's British Royal Marines Boxing Team May 3 and 8, 2018. This event will be the continuation of a tradition fostering partnership, warfighting skills, and commitment to crown and country.