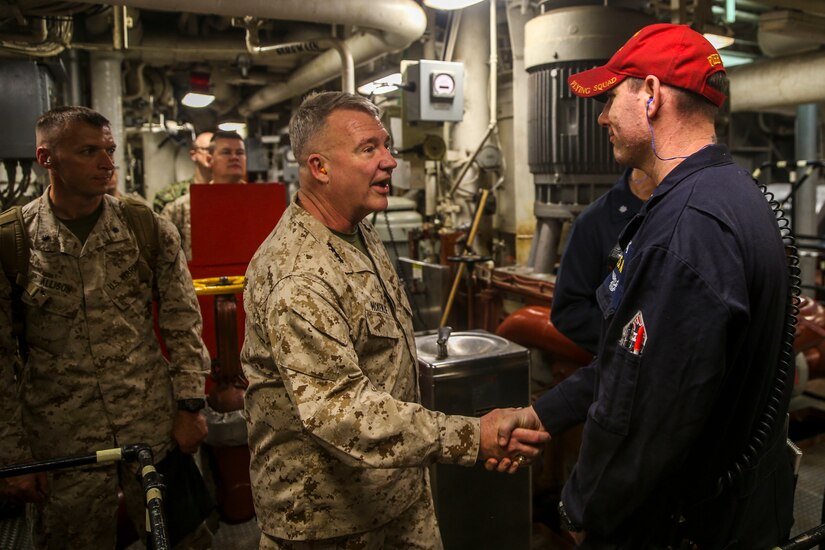 RED SEA, AT SEA, Jan. 30, 2020 — Gen. Kenneth F. McKenzie, Jr., commanding general of U.S. Central Command (USCENTCOM), told Sailors and Marines aboard USS Bataan (LHD 5) that "I feel better knowing that I have you in this theater."
McKenzie visited Bataan, the flagship of the Bataan Amphibious Ready Group (ARG), on Jan. 23 in the Red Sea. The 26th Marine Expeditionary Unit (MEU) is embarked on the ARG ships, which also include the amphibious transport dock USS New York (LPD 21) and the dock landing ship USS Oak Hill (LSD 51).
"We're at a very delicate time in the Central Command theater," he told Sailors and Marines on Bataan. "Nothing says 'deterrence' better than an ARG and a MEU. The unique flexibilities that come with a MEU/ARG provide a lot of options."
McKenzie told the personnel onboard Bataan they "need to be ready" for anything. "We could employ you on very short notice and on some very difficult missions," he said. "And I know I can count on the Navy-Marine team to be ready when that time comes."
During his visit to Bataan, McKenzie toured the ship's engine rooms and, after addressing the crew over the intercom system, personally met with dozens of Sailors and Marines.
"It was a great experience to have the USCENTCOM Commander aboard Big 5," said Capt. Greg Leland, commanding officer of Bataan. "Gen. McKenzie engaged our blue and green team and reinforced the importance of our highly-trained presence in this region of the world."
Operations Specialist 3rd Class Kapeka Pereda of Amphibious Squadron 8, which is embarked on Bataan, sat across the table from McKenzie at lunch on the mess decks and was given a command coin by the general. "It was an honor to be able to sit down and have lunch with the general. It was nice to have that insight into our role in this theater," she said. "It meant a lot that he took us into consideration. It made us feel really important, because he let us have a say and ask questions. He provided us with an opportunity to have a voice in the conversation about our deployment."
The Bataan ARG and 26th MEU are operating in the U.S. 5th Fleet area of operations, which encompasses about 2.5 million square miles of water area and includes the Arabian Gulf, Red Sea, Gulf of Oman, Gulf of Aden, Arabian Sea and parts of the Indian Ocean. The expanse includes 20 nations and three critical choke points for global commerce, at the Strait of Hormuz, the Suez Canal and strait of Bab al Mandeb at the southern tip of Yemen.
"Gen. McKenzie made it a point to visit the engineering spaces on the ship and eat lunch on the mess decks with Sailors and Marines while on Bataan, showing he truly cares about the men, women and ships under his command," said Capt. Lance Lesher, Commodore of the Bataan ARG. "The Bataan Amphibious Ready Group and 26th Marine Expeditionary Unit are trained, postured and ready to serve as Central Command's crisis response team – a flexible, adaptive and persistent force that can maneuver throughout the theater to defend U.S. forces and support partners and allies throughout the region."
The 26th MEU is a Marine Air-Ground Task Force comprised of approximately 2,500 Marines and Sailors supported by three major subordinate elements with the ability to provide agility in a dynamic security environment. Those subordinate elements include the Ground Combat Element, the Aviation Combat Element and the Logistics Support Element.
"The Marines and Sailors of the 26th Marine Expeditionary Unit were honored to host the USCENTCOM Commander, Gen. McKenzie," said Col. Trevor Hall, commanding officer of the 26th MEU. "Marine Expeditionary Units have a unique mission of providing the combatant commander with a flexible and responsive sea-based Marine Air-Ground Task Force. Being able to interact with our combatant commander aboard the USS Bataan was an enriching experience for all Marines and Sailors."
Also embarked with the ARG are elements of Naval Beach Group 2, Tactical Air Control Squadron 22, Fleet Surgical Team 4 and Helicopter Sea Combat Squadron 28.
The Bataan ARG and 26th MEU is deployed to the U.S. 5th Fleet area of operations in support of maritime security operations to reassure allies and partners and preserve the freedom of navigation and the free flow of commerce in the region.