This report originally published at southcom.mil.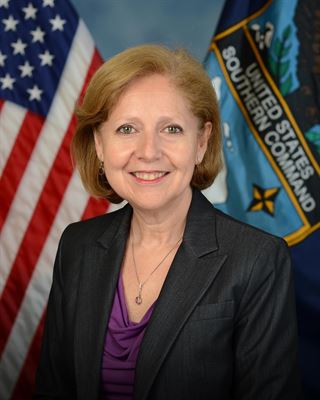 Feb. 21, 2017 —
MIAMI — Ambassador Liliana Ayalde has assumed duties as U.S. Southern Command (SOUTHCOM) Civilian Deputy to the Commander and Foreign Policy Advisor.
As the ranking Senior Foreign Service Officer at the command, Ayalde will lead interactions with the U.S. Department of State, other civilian executive agencies, and state governments, and will provide geopolitical, political-military, and economic advice.
Ambassador Ayalde comes to SOUTHCOM with 33 years of experience in the diplomatic service. She is a member of the Senior Foreign Service with the rank of Career Minister. She most recently served as the U.S. Ambassador to the Federative Republic of Brazil (2013-2016). Ayalde previously served as Deputy Assistant Secretary of State for Western Hemisphere Affairs (Central America, the Caribbean, and Cuba), Senior Deputy Assistant Administrator for the Latin American and Caribbean Bureau for the United States Agency for International Development (USAID), and U.S. Ambassador to the Republic of Paraguay (2008-2011). While serving with USAID, she was posted in Bangladesh, Guatemala, Nicaragua, Bolivia, Colombia, and Washington, D.C.
Ayalde is a native of Maryland and holds a Bachelor of Arts degree from the School of International Studies at American University in Washington, D.C. and a Master of Public Health from Tulane University in Louisiana. She is the recipient of numerous honors and awards. Ayalde is fluent in Spanish and Portuguese and has a working knowledge of French.
U.S. Southern Command (SOUTHCOM) reports are created independently of American Military News (AMN) and are distributed by AMN in accordance with applicable guidelines and copyright guidance. Use of SOUTHCOM and U.S. Department of Defense (DOD) reports do not imply endorsement of AMN. AMN is a privately owned media company and has no affiliation with SOUTHCOM and the DOD.