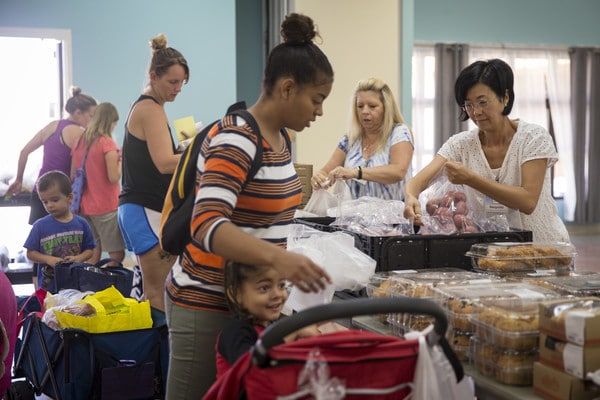 MARINE CORPS BASE CAMP PENDLETON, Calif. —
The Food Pantry Ministry is a ministry that collects food donations and provides the food to members of the ministry or anyone in need .
The Food Pantry Ministry partnered with five different off-base organizations to provide free food such as: meat, bread, vegetables and more for all base patrons across Marine Corps Base Camp Pendleton.
"Food is a huge part of anyone's budget," said Lt. Bryan Greene, battalion chaplain, Headquarters & Support Battalion, Marine Corps Installations-West. "It's no secret that sometimes, it's hard to [get by], so these organizations provide a bit of assistance."
The food provided by these organizations is free of charge. Veterans, service members and families can take the food as long as they have access to the installation.
Every food pantry is run by different organizations. These organizations help donate food to the patrons of the installation to give them a helping hand.
"They are here to serve the service members and their families," said Greene. "They're not just handing out non-perishables. They're passing out dairy, fresh produce and quality products."
The different organizations show up at different times throughout the month to combine efforts and provided consistency for the patrons. For example, one church assists in the Food Pantry Ministry every first Wednesday of the month throughout the year.
As another example, an additional organization contributes every Tuesday throughout the year, other than holidays. These organizations have been supporting the Food Pantry Ministry for approximately seven years.
"We try to make sure that families on base are able to get what they need," said Sita Helms, volunteer. "We encourage people to take extra food if there is more than enough."
Most of these organizations have plenty of food to go around; so do not worry, supplies will not run out. The food pantries are open across base throughout the year, so base patrons will have the opportunity to attend.
"The most important thing about the food pantries is that they're helping feed families and single [service members] free of charge just because they want to help," said Greene.
For more information on where to locate these food pantries, contact the Headquarters & Support Battalion chaplain at 760-725-5332.