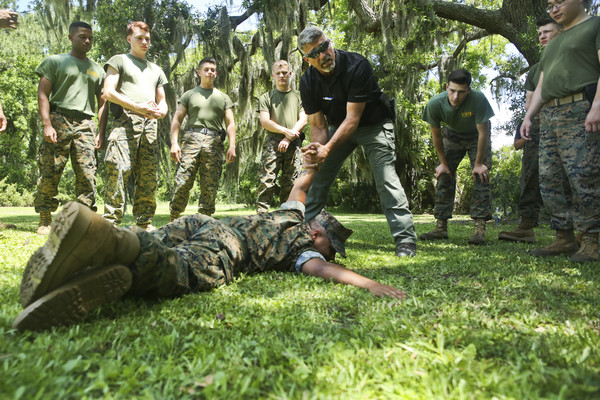 PARRIS ISLAND, South Carolina —
Marines with Headquarters and Headquarters Squadron conducted Security Augmentation Force training aboard Marine Corps Recruit Depot Parris Island May 21 – 23, 2018.
The SAF is a detail of Marines selected from H & HS to assist the Provost Marshal's Office with security during various emergency situations such as destructive weather or man made threats. At a moment's notice, these Marines are ready to face security threats and assist Fightertown's military and civilian police force.
"I think every Marine should learn what we learn at SAF," said Cpl. Jacob Blea, an administrative specialist. "These skills not only train us to help the MP's but they also increase our situational awareness and crises response reflexes. We learn the very basics of what the MP's do to keep our base safe, everything from identifying potential threats, to vehicle searches, to the escalation of force."
The three day course began with classroom instruction. The classes began with how to run the gates at the entrance to air station, the four basic components of listening, communication, space relationship, body language, use of force, deadly force, and the escalation of force.
"We spent two days in the classroom, learning more about the procedures for working on SAF and on the last day we conducted practical application," said Blea. "We also learned about vehicle searches, when they should be done, the various types of vehicle searches, and practiced them. I think that this is one of those skills Marines should know."
The practical application also covered how to safely and properly subdue a person. The Marines practiced handcuffing each other at various stages of force escalation. The instructors from the PMO acted out the example and then supervised as the Marines went through the drills.
"According to base order, SAF needs to have a certain number of Marines trained to assist PMO should an emergency arise," said Howard Shappee, training specialist with PMO. "What they are ready to do is to increase manpower and protect our security assets. In the past SAF has been activated during hurricanes. They stayed behind on base with our MP's and assisted with security and recovery efforts."
During destructive weather events in the past years SAF has been an integral part of the destructive weather team. When the rest of the base evacuates, SAF and the destructive weather team stay behind to begin recovery efforts as soon as the storm passes. SAF also protects the security assets on base in the event that a section of the perimeter fence falls down.
"This kind of training really encompasses to me what it means to be a Marine," said Lance Cpl. Terry Haynes, a communications strategist. "Marines train how we fight and having this extra bit of knowledge to keep everyone safe is worth it."
The SAF Marines trained to assist our PMO Marines and civilian personnel who work tirelessly to provide security to our Marines, Sailors, civilians and their families. During emergencies and recovery efforts SAF is ready to add strength to PMO, speed recovery efforts and exemplify the phrase, Semper Fidelis, always faithful.