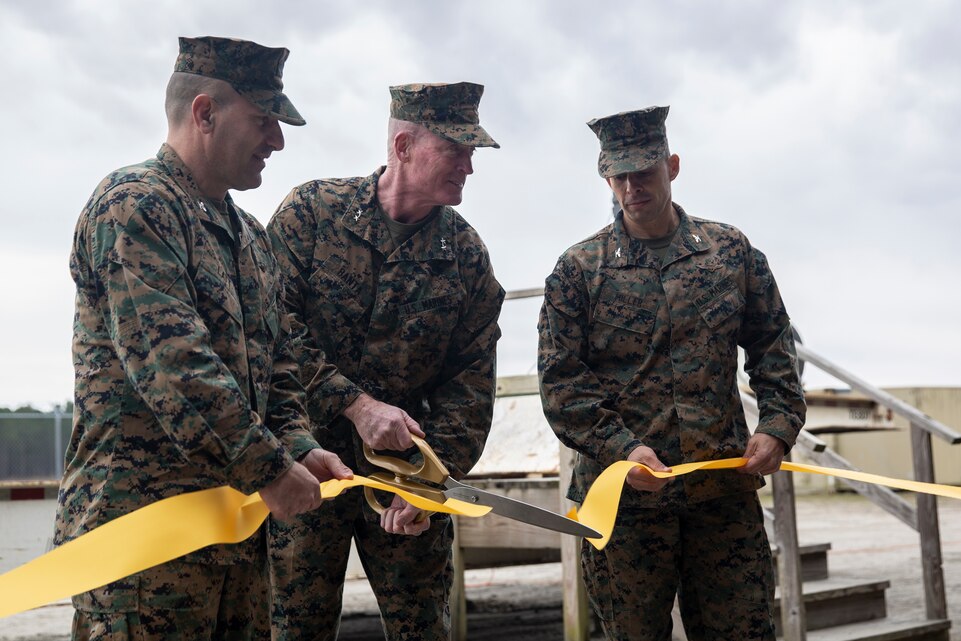 TOWNSEND AIR-TO-GROUND RANGE, Ga. —
Marine Corps Air Station Beaufort held a ribbon cutting ceremony for Townsend Bombing Range, January 29. The ceremony was held to commemorate the completion of expanding and modernizing TBR, the East Coast's premier air-to-ground bombing range.
"When I first encountered the range and started working with the personnel in 2015-2016 it was still operated by Georgia Air National Guard," said Lt. Col. Brian Gerschutz, the Pilot Training Center officer in charge and an instructor pilot with Marine Fighter Attack Training Squadron 501. "Prior to the full transfer of ownership to the Marine Corps, it was trending toward becoming obsolete. There was little to no modernization. The Marine Corps began numerous initiatives to not only modernize the range but also its size expansion."
Although MCAS Beaufort owned the bombing range, until October 2017 Georgia Air National Guard maintained and operated it. Since then, MCAS Beaufort assumed full operational responsibility of the range and expanded the range from 5,183 acres to 33,834 acres.
"Townsend Bombing Range is important not only to the Marine Corps but also for other aviation platforms in the U.S. South East. Its expansion and modernization of our air-to-ground targets will make it a first-class training range. As our aircraft and weapons evolve and become more precise, they are also increasingly longer in range, so it's important for our ranges to evolve and enable our pilots to employ those long range precision weapons. Townsend gives us this capability." Lt. Col. Brian Gerschutz, the Pilot Training Center officer in charge
In 2003 Marine Aircraft Group 31 proposed the expansion of the range to meet the need for the pilots and air crews to train as they fight, using precision guided munitions. Previously, due to the size of the range, the aircrews were only able to train with gravity bombs.
The range not only services the Marine Corps, but also the aircrews of the Navy, Air Force, Air National Guard, Army and Army National Guard from nearly 15 installations along the East Coast. It's about 82 miles southwest of MCAS Beaufort in Townsend, Georgia. The nation's aircrews use it as an inert air-to-ground training range to drop precision guided munitions.
"The impact that (TBR) has, particularly for MAG-31, is it's pretty much a backyard bombing range for them," said Dave Wilson, a retired MCAS Beaufort Logistics Officer. "For the F/A-18s and F-35Bs both a large portion of their mission is to do air-to-ground, which is deliver air-to-ground ordnance on time, on target and Townsend bombing range is where they practice a bulk of that mission."
As the range continues to be updated and maintained, it will be adapted to meet the ever changing needs of our pilots, ensuring they are ready to meet any challenge or enemy, as America's force in readiness. TBR will continue to allow our pilots to train to deploy without deploying to train.