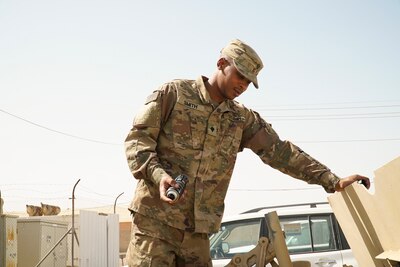 ---
CAMP TAJI, Iraq —
When the 787th Combat Sustainment Support Battalion took command of its mission here May 5, one of the first things the soldiers did as a unit was to look for ways to improve their work areas, including their new headquarters building.
The 787th CSSB works with units under their operational control as Task Force Grizzly, providing sustainment support to U.S. and coalition forces in support of Operation Inherent Resolve.
Task Force Grizzly immediately began projects to make aesthetic enhancements to the buildings they inherited on Camp Taji soon after moving in, with the intent of displaying a sense of pride in their mission during their time here.
"Upon arrival at Camp Taji, I knew that I would make area beautification a priority," said Army Capt. Johnathan Peabody, commander, 787th CSSB, Headquarters and Headquarters Company. "This will be our home for the next year, and we must take pride in it. We need to make it our own."
One of the soldiers Task Force Grizzly turned to for these aesthetic improvements included Army Spc. Andre Smith, a tactical power generation specialist known throughout the unit for his creativity and artistic ability.
"Specialist Smith is an excellent soldier who was actually handpicked for this mission. He consistently volunteers for extra duties," said Army 1st Sgt. Timothy Small, 787th CSSB, Headquarters and Headquarters Company. "The task of painting the howitzer in front of the battalion headquarters was right up his alley due to his extraordinary artistic skills."
An Early Start on Art
Smith said that he started producing artwork as far back as elementary school.
"Back in fourth grade, my teacher told us after reading a particular book to design our dream zoo," he said. "When I was done, I showed the teacher and she was just blown away. She showed everybody and the other teachers, and the next thing I know, I'm an artist."
Smith later presented his drawing to his mother, who encouraged him to continue drawing, telling him that drawing ability runs in their family and asking him not to neglect his talent.
"After that, I've been drawing nonstop," Smith said.
A self-taught artist, Smith has been using his skills to benefit the Army units he's belonged to since the beginning of his service as a soldier and as an outlet for stress relief during his off-duty time.
"In basic training I designed our platoon T-shirts," he said. "It takes my mind off of things. I can be creative and forget everything else for a while."
Smith also recommended art as a creative outlet for other soldiers.
"Even if you're not good at drawing — it doesn't matter if you're drawing stick figures — just draw away and watch how it puts your mind at ease," he said. "It's relaxing, so if you have nothing else, give it a try."
Future projects Smith will complete for Task Force Grizzly include painting a mural on a nearby wall, in addition to his duties in support of training and maintenance.
"It's soldiers like Specialist Smith who will make this mission successful," Small said.
Following his deployment, Smith said, he plans to study architecture as a full-time student in his hometown of Atlanta.