This report originally published at defense.gov.
For one chaplain serving in the 82nd Airborne Division, his calling did not come in the form of a thunderous voice or dramatic event. It came when he opened a local newspaper.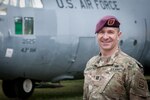 U.S. Department of Defense (DOD) reports are created independently of American Military News (AMN) and are distributed by AMN in accordance with applicable guidelines and copyright guidance. Use of DOD reports do not imply endorsement of AMN. AMN is a privately owned media company and has no affiliation with the DOD.