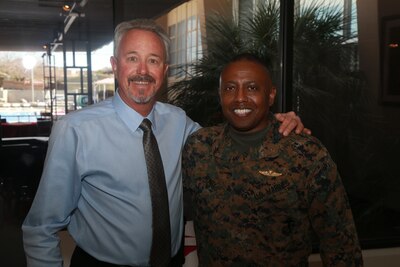 ---
MARINE CORPS AIR GROUND STATION TWENTYNINE PALMS, Calif. —
The Marine Corps promises few things to its members: discipline, shared hardships and, for many, a fresh start. Among those promises is something else that many search for but not all find — a lifelong brotherhood.
This very bond is what Larry Stratton and Brig. Gen. Dimitri Henry, the Marine Corps' director of intelligence, found in each other. Despite their separation in distance and experience over the years, both men were unknowingly joined from the moment they made their impressions on those yellow footprints at boot camp.
For Stratton, a retired master sergeant and most recently the former deputy director of Marine and Family Programs, service to others runs in his blood.
"My father made a career of the Air Force, and my uncle did the same," Stratton said. "I'm a military brat. I was born at the Moody Air Force Base in Valdosta, Georgia. As I got older, my father wanted me to join the Air Force, and he kept pushing me. I think he pushed a little too hard and one day I told him, 'I'm going to go talk to a Marine recruiter.' His response to me was, 'Go ahead, I'll see you in two weeks.'"
Despite his father's initial objections, Stratton enlisted in the Corps in 1973, and in the end, his father's wish of having his eldest son serve in the armed forces came to fruition. Although Stratton was reared with the military customs that are unique to the Air Force, the Corps' reputation preceded itself.
"I'd heard the Corps was really big on teamwork and that it really took care of its people," Stratton said. "That's what actually made me want to go with the Marine Corps. It wasn't what he envisioned, but my father is very proud of me and my accomplishments."
Although he may not have realized it at the time, Stratton's upbringing prepared him for his new life in the Marine Corps.
"I have two younger siblings — a brother and sister," Stratton said. "My brother and I were only a year apart, but being a big brother to my little sister was a big deal to me. For being 12 years apart in age, she and I are very much alike. Being a military brat, my brother, my sister and I learned to adapt to different situations. Growing up all over did me a great deal [of good] because I learned how to deal with different people, different surroundings and different cultures. I think it made me a better-rounded person."
Over the course of his career as an enlisted Marine, Stratton would be stationed at the now deactivated 1st Motor Transport Battalion at Marine Corps Base Camp Pendleton, California, and 1st Marine Aircraft Wing in Okinawa, Japan, before he served the tour that would cross his path with Henry's.
"While I was in Okinawa, I was deep zone selected for staff sergeant and I went to [drill instructor] school," Stratton said. "I graduated fifth in my class and was assigned to 3rd Recruit Training Battalion aboard [Marine Corps Recruit Depot San Diego, California], and that's when I met then-recruit Henry."
The Beginning
During those three months in the summer of 1981, their relationship didn't develop past the young pupil and the firm guiding hand. Even still, Henry made an impression on then-drill instructor Staff Sergeant Stratton.
"I talked to retired Marine Steve Hall, who was our senior drill instructor, about Henry," Stratton said. "Henry was what they called the 'house mouse.' People might laugh at that, but the bottom line was you had to be a recruit who was trusted, and Henry set out that we could trust him from the get-go. He did everything he was told to, and he did it quickly. I don't ever remember having a problem with Henry. He was a good kid, he really was."
Unbeknownst to both of them, this brief interaction marked the start of a lifelong brotherhood, though it would be years before they saw each other again.
A Brief Intermission
Following his tour at the recruit depot, Stratton continued on to the Marine Corps Barracks in Washington, D.C., followed by an additional tour in Okinawa, an assignment at the Motor Transport School and his final duty station at the Combat Center.
"While I was at the Motor Transport School, I received the National Defense Transportation Association Instructor of the Year award, across all branches of the service," Stratton said. "I was also able to complete my college education, and I received my undergraduate degree in psychology from Chapman College."
Although he had completed more than 16 years of military service, Stratton said, he still felt there was a calling he had yet to answer. Shortly after he received his degree, he sent out a form to inquire as to whether the Marine Corps could use his degree for anything. The answer was yes. He attended the Naval Drug and Alcohol Counselor School, and upon completion, Stratton received his orders to spend his last five years in service as a drug and alcohol counselor. In 1995, he retired as a master sergeant after 22 years of honorable and faithful service.
"Before I left, I was selected for the GEICO Military Service Award, Marine recipient, for substance abuse education and prevention," Stratton said. "It was the second national award I received in my career, so I thought it was pretty decent."
Six months after his retirement, Stratton's work still wasn't finished. The five years he'd spent as a counselor contributed to a transition to his new role as a prevention education specialist at Marine Corps Community Services. Not long after he began, Stratton received a promotion to personal readiness and community support branch head. Then in 2013, he became the deputy director of MCCS.
"Being here is definitely a calling because I felt like I could still help the Marines and their families by staying here," Stratton said. "That's what I wanted to do. I always said I was going to give back to the Corps for what it gave me, and I like to believe that I've done that."
An Unexpected Reunion
Roughly 23 years after their first encounter, Stratton's and Henry's paths crossed again. Stratton, now a Marine Corps veteran and devoted government employee, spotted his former recruit in 2004 during a promotion ceremony for the base's commanding general.
"There was very inclement weather, so we had the promotion ceremony at the theater," Stratton said. "After his promotion, I was getting ready to leave the theater and I look over at this Marine lieutenant colonel sitting there and I thought, 'This man looks too familiar for me to not go over.' When I walked over, I saw his name on his cammies and I said 'Colonel Henry, I think I know you.' He looked at me, then he looked at my name badge and he smiled real big and he goes, 'You should. You were my drill instructor.'"
It was then that Henry invited Stratton to be a guest at his change-of-command ceremony at Camp Pendleton.
"We started talking, and I found out that then-Colonel Henry was getting ready to take over at 1st Radio Battalion," Stratton said. "He invited me to be one of his guests at his ceremony, and I thought I would go there and sit in the back of the crowd. He had me sit up front with his family, which I felt very honored to do. During the ceremony, he introduced me as one of his drill instructors. We've kept in touch ever since."
Last month, with his friends, family and Henry by his side, Stratton retired from his position as the deputy director after devoting 44 years of collective service to military and government work. For Stratton, each moment he experienced holds a special place in his heart, but one of the most impactful moments was his time as an enlisted Marine on the drill field.
Lasting Impressions
"I met Mr. Stratton around June of 1981," Henry said. "My first impression of him was he embodied what the Marine Corps was looking for in a drill instructor. He was a father figure, but he was hard on us. They always pushed us, but he made me understand what being a Marine is all about."
By Henry's recollection, whenever incidents that went against the values of the Marine Corps occurred, Stratton took the time to teach them the right way.
"He would sit us down and talk to us as men about what a Marine really is and why we don't do some of the things that we saw being done while we were there," Henry said. "He taught us what we're supposed to be doing and how we're supposed to take care of and help each other."
Those moments left a lasting impact on Henry. From the start of his career, his main mission was to help Marines. As he advanced, he realized that the more rank he attained, the better positioned he would be to influence positive change for his unit and his Marines. In 1988, Henry commissioned as a second lieutenant in the Corps and even now, Henry carries with him many of the lessons Stratton taught.
"I always speak highly of him and how he shaped my view of what being a Marine is about," Henry said. "He told us it's about serving, and that never left me. That's the drill instructor he was, and that's why I credit him even to this day for setting me on the right path."
And now, two successful careers and more than two decades later, the teachings that he passed along to Henry are still every bit a part of Stratton as the day he joined.
"Over at DI School, there is a sign that reads, 'Through these halls is the future of the United States Marine Corps,' and I took that very seriously," Stratton said. "You like to believe you make an impact on your recruits, but I think until you see someone like Brigadier General Henry, it doesn't really hit you that you made a difference in somebody's life."
Whether a Marine's career spans four years or 20, their time spent in the Corps leaves a lasting impression. While most will remember the places they went and the hardships they shared, ultimately, it is the people who will have made it all worthwhile. This is the ultimate reward — the guarantee that from the moment you join, you will always belong.