This report originally published at centcom.mil.
Heat haze rippled behind the tails of three F-16 Fighting Falcons as they taxied toward the maintenance and logistics Airmen awaiting them on the flight line of Al Udeid Air Base, Qatar, on Nov. 10, 2020.
Aircrew from the 77th Expeditionary Fighter Squadron, deployed to Prince Sultan AB, Kingdom of Saudi Arabia, trained for a week with members of the 379th Expeditionary Maintenance Group and the 379th Expeditionary Logistics Readiness Squadron on hot refueling.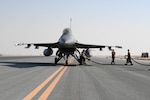 U.S. Central Command (CENTCOM) reports are created independently of American Military News (AMN) and are distributed by AMN in accordance with applicable guidelines and copyright guidance. Use of CENTCOM and U.S. Department of Defense (DOD) reports do not imply endorsement of AMN. AMN is a privately owned media company and has no affiliation with CENTCOM and the DOD.