This report originally published at southcom.mil.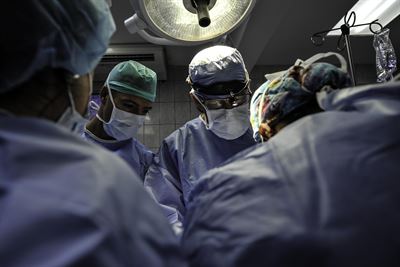 COLÓN, Honduras, Aug. 11, 2016 — The Joint Task Force-Bravo Medical Element's Mobile Surgical Team completed 11 surgeries at the Dr. Salvador Paredes Hospital in Trujillo, Honduras from July 27-29.
The MST is a self-sustaining unit that utilizes their own equipment and operates out of various facilities throughout Honduras to provide free surgeries to patients in need.
The patients treated by the MST during this operation in Trujillo were first screened by the doctors of the Dr. Salvador Paredes Hospital and recommended for the surgeries based on the severity of their injuries, how long they've had the problem, and lack of means to pay for the surgeries.
"We did a few different types of surgeries, but typically we do open gallbladder removals and hernia repairs," said U.S. Army Capt. Denise Sons, MEDEL perioperative nurse and the MST-Colón officer in charge. "Everything went really well and it feels good to be able to help like this because a lot of the patients have been waiting to have surgery done for months, and in some cases, years."
Members of the current MST rotation have now operated on patients in six different hospitals in Honduras and see patients twice a week in La Paz. All of the patients the MST operates on are chosen by the local hospitals and their providers based on their own unique set of determining factors, to include the local hospital staff's ability to provide follow-up care.
"Since February we've averaged about 30 surgeries a month," said U.S. Army Lt. Col. (Dr.) James Smith, MEDEL general surgeon. "We never operate without a Honduran surgeon present, so that goes a long way in the exchange of medical information and new medical ideas and technology. And it's not only them learning things from us, we learn a lot from them because they are masters at providing superb healthcare with very meager resources."
Although the current MST staff is two-thirds of the way through their deployment to Honduras, each of them look forward to positively impacting the lives of more than one hundred future patients and their families.
"We're not kidding ourselves about being the only medical team that comes to Honduras, we're a very small drop in the ocean when it comes to the doctors here and the Honduran health care service," Smith said. "But I couldn't be happier to be here and be able to provide the services that we provide."
U.S. Southern Command (SOUTHCOM) reports are created independently of American Military News (AMN) and are distributed by AMN in accordance with applicable guidelines and copyright guidance. Use of SOUTHCOM and U.S. Department of Defense (DOD) reports do not imply endorsement of AMN. AMN is a privately owned media company and has no affiliation with SOUTHCOM and the DOD.