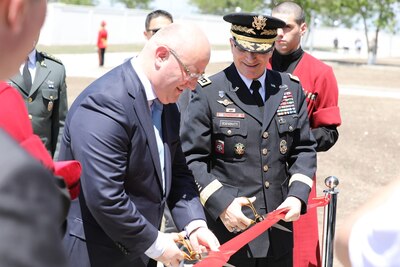 ---
STUTTGART, Germany —
The commander of U.S. European Command met with senior Georgian leaders during a two-day visit this week to reaffirm the U.S. commitment to Georgia's sovereignty and its aspirations to become a member of NATO.
As part of his visit, Army Gen. Curtis M. Scaparrotti participated in the launch and ribbon-cutting ceremony yesterday for the Georgia Defense Readiness Program Training initiative.
"Georgia is a key strategic partner of the United States," Scaparrotti said during the launch ceremony at the Georgian armed forces' Vaziani military base. "The United States and Georgia have a long history of cooperation, and Georgia is an important friend, partner, and ally."
Georgian Defense Minister Levan Izoria and Maj. Gen. Vladimir Chachibaia, chief of Georgia's General Staff, also spoke at the event. The Georgian Armed Forces Band performed the U.S. and Georgian national anthems, and troop formations from both nations were present on the parade field. After the ceremony, the leaders toured a new training barracks.
New Era for Georgia
"A new era opens in Georgia," Izoria said during his opening remarks. "U.S. cooperation in the long-term perspective will enhance and strengthen defense capabilities of our country, as well as the security of our citizens."
Scaparrotti echoed that the launch of the training element marks the beginning of a new era of partnership with Georgia.
"Bilateral programs such as the GDRP demonstrate that proven partnerships are built upon shared values, experiences and visions," he said. "This GDRP training program contributes to the security of the Black Sea region, and thus, the stability of the greater European security environment."
The GDRP-T is part of the steadfast commitment between the two countries to improve Georgia's combat readiness and to further develop a self-sustaining institutional capacity to man, train and equip a force prepared to accomplish assigned national missions, Eucom officials said.
Global Contributions
Scaparrotti also emphasized Georgia's contributions globally, including sending service members to Iraq and Afghanistan.
"Throughout the last seven years, Georgia has deployed more than 13,000 soldiers in support of the NATO International Security Assistance Force and Resolute Support mission in Afghanistan, and more than 7,800 Georgian soldiers have previously deployed to Iraq," he said.
Scaparrotti also commended Georgia for its NATO contributions, identifying Georgia as the "largest non-NATO force contributor alongside U.S. and NATO forces in Afghanistan," and as having "provided more troops per capita than any other country in the world."
Aiding Interoperability, Defense Capabilities
U.S. Army Europe will take the lead in supporting the Georgian Ministry of Defense's training of nine Georgian battalions over the next three years. During the training program, the Georgian armed forces will maintain and complement an already high level of training and readiness for its international missions, Eucom officials said, adding that the GDRP training mission will add to Georgia's interoperability and strengthen its territorial defense capabilities.
Before the ceremony, Scaparrotti met individually with Izoria, Georgian Prime Minister Giorgi Kvirikashvili and Georgian President Giorgi Margvelashvili. Each spoke about a variety of topics of mutual interest, Eucom officials said, mainly focusing on the need for continued efforts to deter Russia, continued enhanced partnerships through the GDRP-T and other programs, commitment to shared western, democratic values, and support for Georgia's goals in NATO membership.
"The United States is proud to support Georgia, and we look forward to continuing our commitment to this country in the future," Scaparrotti said.