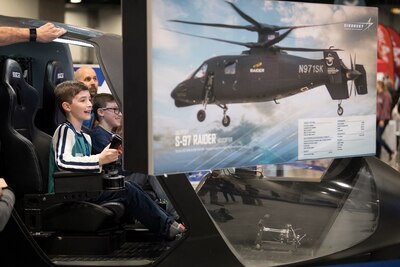 WASHINGTON, April 6, 2018 —
The doors opened to the 5th annual USA Science and Engineering Festival at the Walter E. Washington Convention Center here today, and will be open to the public until April 8th.
The Defense Department is supporting the event with several exhibits in which the audience will have the opportunity to interact with DoD science, technology, engineering and math professionals and mentors.
"This year we have a cannon that incorporates using vacuums and air pressure, hands on robotics, a display on how missiles are made, and all sorts of hands-on things here to try to show children what we are trying to do and why science and engineering is important," said Dale Ormond, principal director for DoD's Research Directorate Office.
Developed to ignite the next generation's interest in science and engineering, the expo will feature over 3,000 hands-on activities showcasing this year's theme: "Where STEM Can Take You."
"Opportunities like these [are] where we can show children that science can be fun, and the different avenues you can take that discipline of engineering or science and apply it to any field whether it ends up in science or engineering or not," said Mary Miller, assistant defense secretary for research and engineering."
Keynote Events
Along with different booths and activities, the expo will feature science celebrities, explorers, astronauts, physicists and inventors, including TV host and ocean explorer Danni Washington, University of Texas chemist Kate Biberdorf, World Champion of Magic Jason Latimer, DIY Sci host Steve Spangler and Xploration Outer Space host Emily Callandrelli.
Ormond said there's a crisis in the science and technology fields as young people choose other occupations.
"We have a whole generation of men and women that are now getting ready to retire, and we don't graduate enough stem graduates from our universities to meet the demand," she said.
Ormond added that she was reminded of something once said by Mike Griffin, a former NASA administrator and current undersecretary of defense for research and engineering: "'When I was a kid, the president put a challenge on the table and said, "We are going to put a man on the moon by the end of the 60's." Me and a lot of others like me were inspired by that challenge and went into engineering so we could participate.' We've got to find that kind of challenge to inspire young people to go do the work, study the math and learn the science so they can go and move into these kinds of jobs."
Investing in the Future
Along with being one of the largest employers they also provide multiple opportunities and outreach programs to begin teach students the importance of STEM.
"The department has a large outreach program, from kindergarten all the way through post graduate. Where they have opportunities to go to schools and bring engineering, science and technology activities, there's opportunities to bring students into laboratories to work with scientist and engineers, we establish mentorship programs for the children," Miller said. "And once they get to high school and college we provide internship and scholarship programs where they can work for the department and also earn an education."
The Walter E. Washington Convention Center is located at 801 Mount Vernon Place N.W., Washington D.C., 20001.