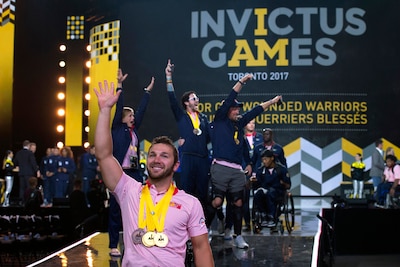 ---
WASHINGTON —
The Defense Department announced yesterday the names of the 72 competitors who will compete on the United States team at the Invictus Games in Sydney, Oct. 20-27.
More than 550 wounded, ill and injured service members from 18 allied nations are expected to compete. Competitors will participate in 11 adaptive sports, including archery, athletics, indoor rowing, powerlifting, road cycling, sitting volleyball, swimming, wheelchair basketball, wheelchair rugby, and a new addition this year, sailing — around the iconic Sydney Harbour.
"Participation in the 2018 Invictus Games helps to shine a light on the amazing power and positivity of adaptive sports and reconditioning activities for our wounded warriors, who continue to inspire us with their strength, resilience and personal courage every day," said Stephanie Barna, performing the duties of undersecretary of defense for personnel and readiness. "These brave service members and veterans demonstrate what it means to be professional, dedicated, and determined. We are proud to honor and recognize their remarkable achievements and support them as they continue their personal journeys of recovery and healing."
The Invictus Games, founded in 2014 by the United Kingdom's Prince Harry, are based on the United States' concept of the Warrior Games and are designed to use the power of sport to inspire recovery, support rehabilitation, and generate a wider understanding of, and respect for, those who serve their country and their loved ones.
The team captain and co-captain have not yet been identified.
The following athletes were selected as primaries for the U.S. team:
Staff Sgt. Ross Alewine, Army
Retired Gunnery Sgt. John Ayo, Marine Corps
Retired Cpl. Jose Barron, Marine Corps
Retired Senior Airman Jamie Biviano, Air Force
Retired Capt. Steven Bortle, Army
Marine Corps Master Sgt. Benjamin Brodt, U.S. Special Operations Command
Army Spc. Vairon Caicedo, U.S. Special Operations Command
Retired Petty Officer 2nd Class Brian Canich, Navy
Retired Senior Airman Heather Carter, Air Force
Army Sgt. 1st Class Jarrid Collins, U.S. Special Operations Command
Sgt. David Crook, Army
Staff Sgt. James Dunaway, Marine Corps
Retired Petty Officer 3rd Class Mark Eldridge, Navy
Retired Chief Petty Officer Joshua Erickson, Navy
Retired Sgt. Brandi Evans, Army
Retired Tech. Sgt. Christopher Ferrell, Air Force
Retired Airman Austin Chance Field, Navy
Gunnery Sgt. Dorian Gardner, Marine Corps
Retired Petty Officer 3rd Class Jamie Garza, Navy
Retired Gunnery Sgt. Doug Godfrey, Marine Corps
Petty Officer 2nd Class Emmanuel Gonzalez, Navy
Retired Lance Cpl. Matthew Grashen, Marine Corps
Retired Sgt. Gabby Graves Wake, Marine Corps
Retired Staff Sgt. Megan Grudzinski, Army
Master Sgt. Kenneth Guinn, Air Force
Retired Master Sgt. Shay Hampton, Air Force
Army Maj. Lee Harvey, U.S. Special Operations Command
Retired Seaman Damion Headington, Navy
Senior Chief Petty Officer Raina Hockenberry, Navy
Army Capt. Brian Hotchkiss, U.S. Special Operations Command
Retired Capt. Lawrence Hufford, Air Force
Petty Officer 2nd Class Mario Ingram, Navy
Army Sgt. 1st Class Brandt Ireland, U.S. Special Operations Command
Army Master Sgt. Keith Jackson, U.S. Special Operations Command
Spc. Stephanie Johnson, Army
Retired Staff Sgt. Michael Kacer, Army
Staff Sgt. Altermese Kendrick, Army
Master Sgt. Linn Knight, Air Force
Lance Cpl. Kira Lavine, Marine Corps
Retired Lt. Daniel Lee, Coast Guard
Retired Staff Sgt. Sebastiana Lopez, Air Force
Retired Staff Sgt. Ryan Major, Army
Retired Petty Officer 2nd Class Leroy McCullough, Navy
Sgt. Ryan McIntosh, Army
Retired Army Sgt. Maj. Shawn Mello, U.S. Special Operations Command
Retired Capt. Kristen Morris, U.S. Air Force
Retired Sgt. Alex Nguyen U.S. Marine Corps
Army 1st Sgt. Douglas Norman, U.S. Special Operations Command
1st Lt. Ryan Novack, Air Force
Retired Army Master Sgt. Edward O'Neil, U.S. Special Operations Command
Staff Sgt. Jason Pacheco, Marine Corps
Gunnery Sgt. Alex Padilla, Marine Corps
Army Sgt. 1st Class Dawn Page, U.S. Special Operations Command
Retired 1st Lt. Chris Parks, Army
Retired Staff Sgt. Tim Payne, Army
Retired Tech. Sgt. Ryan Pinney, Air Force
Retired Sgt. Danielle Pothoof, Marine Corps
Retired Army Master Sgt. Francis Reilly, U.S. Special Operations Command
Lt. Jason Roberts, Navy
Retired Staff Sgt. Joel Rodriquez, Army
Petty Officer 1st Class Tyson Schmidt, Navy
Master Sgt. Benjamin Seekell, Air Force
Retired Tech. Sgt. Joshua Smith, Air Force
Retired Cpl. Michael Sousadecarma, Marine Corps
Retired Senior Airman Hannah Stolberg, Air Force
Retired Sgt. Jorge Toledo, Marine Corps
Maj. Christina Truesdale, Army
Retired Army Sgt. 1st Class Sualauvi Tuimalealiifano, U.S. Special Operations Command
Petty Officer 1st Class Carlos Valerio, Navy
Army Master Sgt. George Vera, U.S. Special Operations Command
Retired Air Force Staff Sgt. Jason Wakefield, U.S. Special Operations Command
Master Sgt. Brian Williams, Air Force