This report originally published at southcom.mil.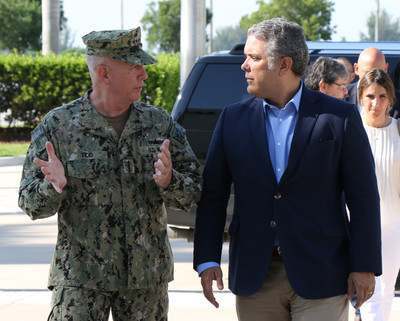 July 14, 2018 —
El Presidente electo de Colombia Ivan Duque visitó la sede del Comando Sur de los Estados Unidos (SOUTHCOM) hoy, donde se reunió con el Almirante Kurt Tidd, comandante de SOUTHCOM y con otros líderes del comando militar para conocer más sobre la institución y sus lazos de defensa con Colombia. Duque visitó la sede como parte de su preparación para asumir la presidencia de Colombia el próximo 7 de agosto.
Su visita refleja los lazos históricos de cooperación entre los Estados Unidos de América y Colombia y los fuertes vínculos de defensa entre las fuerzas armadas de ambos países. El Comando Sur expresó su deseo de continuar trabajando exitosamente con las fuerzas armadas de Colombia para darle continuidad a esfuerzos conjuntos que incrementan la estabilidad y la seguridad en la región.
U.S. Southern Command (SOUTHCOM) reports are created independently of American Military News (AMN) and are distributed by AMN in accordance with applicable guidelines and copyright guidance. Use of SOUTHCOM and U.S. Department of Defense (DOD) reports do not imply endorsement of AMN. AMN is a privately owned media company and has no affiliation with SOUTHCOM and the DOD.