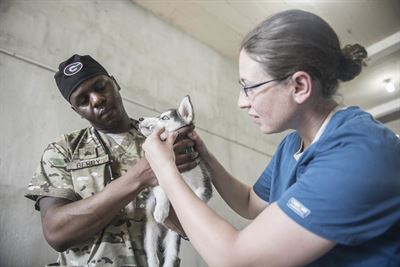 PUERTO BARRIOS, Guatemala, Feb. 8, 2017 —
PUERTO BARRIOS, Guatemala (NNS) — Army veterinarians and technicians partnered with Guatemalan veterinarians to conduct a professional knowledge exchange and preventive medicine training, Feb. 2, in Puerto Barrios, Guatemala, as part of Continuing Promise 2017 (CP-17).
The exchange, hosted by the Ministry of Agriculture, gave public health professionals an opportunity to share their experience treating livestock in the local region through a series of presentations. The veterinary team also collaborated with Guatemalan veterinarians to create a plan to provide vaccination services for local residents throughout Puerto Barrios based on research from previous site visits.
"The conference today was very informative; we were able to discuss sampling methods with the local officials and pinpoint areas that we can provide training to farmers and residents in the area," said Army Capt. Erin Stein, a veterinarian assigned to Public Health Command District Fort Gordon, Georgia. "Being able to help minimize parasitic infections in the animals ensures human infections decrease, as well."
The team also presented a lecture on diagnostic parasitology to determine the effectiveness of vaccines and the methods used to collect samples of infected animals.
"We are very eager to work with the veterinarians and get more preventive medicine training," said Rosalinda Espinoza, a municipal disease prevention director. "Working together will allow everyone a chance to provide a great service to the community to prevent common illnesses and learn from each other."
Army Capt. Amanda Jefferies, a veterinarian assigned to Public Health Command District Fort Belvoir, Virginia, discussed managing sanitation procedures in animal populations in order to prevent cross contamination of livestock during the food safety portion of the event.
"Agriculture is a big part of the local economy, and recognizing the symptoms of illnesses like rabies or tuberculosis is crucial," said Jefferies. "It was good to be able to talk about the prevention methods with everyone because it's the first real step for disease control."
Jefferies believes working alongside Guatemalan veterinary officials will help local farmers to better understand the importance of infectious disease control and its benefits for both human and animal populations.
"Food safety is a major aspect of teaching residents how to prevent foodborne illnesses; we want to help reduce them as much as possible." said Jefferies. "We want to educate the farmers and help them understand prevention is an ongoing process, but the results are definitely worth it."
The Continuing Promise veterinary team will also participate in seminars on surgical procedures, preventative medicine, and vaccinations during stops in Colombia and Honduras.
For more information, visit www.navy.mil, www.facebook.com/usnavy, or www.twitter.com/usnavy.
For more news from U.S. Naval Forces Southern Command & U.S. 4th Fleet, visit