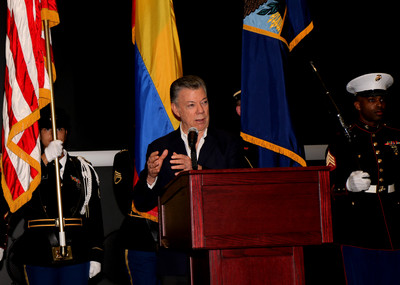 April 25, 2018 —
MIAMI – Colombian President Juan Manuel Santos visited U.S. Southern Command (SOUTHCOM) April 25 to thank command personnel for their steadfast support to his country's security efforts.
During the visit, Santos presented the Department of Defense's geographic unified command with his country's Orden de San Carlos (Order of San Carlos) Medal for SOUTHCOM's unwavering support for Colombia's peace and security throughout the years. President Santos praised the strong cooperation and joint efforts between Colombia and the U.S., particularly through SOUTHCOM. Colombia is and will remain the strongest U.S. strategic partner in the region.
The Colombian government established the decoration in 1954 to recognize civilian and military recipients of Colombian and foreign nationality for "distinguished service to the nation, especially in the area of international relations."
President Santos' administration has implemented a national strategy aimed at ending more than 50 years of internal conflict, disrupting transnational criminal groups operating within its borders, and improving the safety and quality of life of its people. President Santos reached a landmark peace agreement with the Revolutionary Armed Forces of Colombia (FARC) and was awarded the Nobel Peace Prize. Plan Colombia, and now Peace Colombia, were crafted by the nation's democratic leaders, carried out by its security forces and financed primarily by its citizens with assistance from democratic and defense partners like the U.S.
Since 2000, the U.S. invested significant funding to support Colombia's security efforts, including military assistance from SOUTHCOM, which changed over time as Colombia's internal security improved and its requests for assistance from the command decreased.
In August, while testifying before a U.S. Senate foreign relations subcommittee, Assistant Secretary of State for International Narcotics and Law Enforcement Affairs William Brownfield, who served as U.S. Ambassador to Colombia from 2007-2010, summarized just how much that nation's strategies improved the country's security climate.
"In 2016, Colombia had its lowest reported homicide rate in 40 years," he told the committee.
The world witnessed one of the country's security successes July 2, 2008, when Santos was Colombia's Minister of Defense. On that date, the Colombian armed forces carried out a daring rescue of more than a dozen hostages kidnapped by the FARC, among them three U.S. citizens. The FARC held the three U.S. defense contractors captive for 1,967 days, after an aerial mission the former hostages were conducting to help Colombian security forces detect cocaine crops ended when their aircraft crash-landed in an area controlled by their captors.
Santos last visited SOUTHCOM in 2007, after assuming duties as defense minister, to discuss U.S.-Colombia defense cooperation, SOUTHCOM support for Colombia's security strategies and bilateral cooperation to secure the safe rescue or release of the three U.S. citizens held hostage by the FARC.
SOUTHCOM is one of the nation's six geographically-focused unified commands with responsibility for U.S. military operations in the Caribbean, Central America and South America.
###
LINKS TO ADDITIONAL INFORMATION
• Links to video and audio:
https://www.dvidshub.net/feature/ColumbiaPresidentAward
• Biography, Colombian President Juan Manuel Santos
http://es.presidencia.gov.co/presidency/Paginas/President-of-the-Republic.aspx
• Biography, U.S. Navy Adm. Kurt W. Tidd, Commander of U.S. Southern Command
http://www.southcom.mil/About/Leadership/Bio-Article-View/Article/992093/adm-kurt-w-tidd/
• About U.S. Southern Command:
http://www.southcom.mil/About/
• Orden de San Carlos Award:
http://www.cancilleria.gov.co/footer/protocol/ceremonial/condecorations
• Assistant Secretary of State for International Narcotics and Law Enforcement Affairs William Brownfield's August 2017 testimony on Colombia before a U.S. Senate foreign relations subcommittee: https://www.state.gov/j/inl/rls/rm/2017/272997.htm