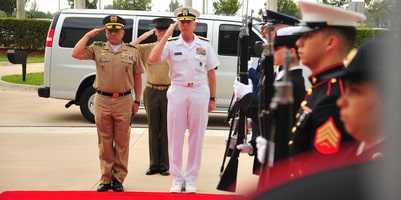 Feb. 20, 2019 —
MIAMI (Feb. 20, 2019) — U.S. Navy Adm. Craig Faller, commander of U.S. Southern Command, hosted Colombian Army Maj. Gen. Luis Navarro Jiménez, Commanding General of the Colombian Military Forces, at SOUTHCOM headquarters today.
The two leaders met at SOUTHCOM to discuss U.S.-Colombia defense cooperation. Jiménez and Faller also participated in a roundtable with other SOUTHCOM leaders focused on the command's mission and its cooperation with Colombia and other partners in the region.
The enduring military partnership between the United States and Colombia dates back decades. Colombian and U.S. troops served under the United Nations Command during the Korean conflict. For many decades, U.S. and Colombian troops have worked alongside each other during exercises, humanitarian assistance missions, professional exchanges, and security operations to counter transnational threats.
Today, the two countries also partner to help other countries build capacity and address security challenges.
Recent examples of U.S.-Colombia defense cooperation include support for the hospital ship USNS Comfort's medical assistance mission in 2018 and the ongoing, civilian-led delivery of humanitarian aid for vulnerable populations in Venezuela and host-countries in the region.