This report originally published at allhands.coastguard.dodlive.mil.
Posted by Jasmine Mieszala, Monday, August 13, 2018
Submitted by the Coast Guard Mutual Assistance Program
Did you know civilian employees and their dependents can use the Coast Guard Mutual Assistance (CGMA) in a variety of ways?
Car broken down? Roof leaking? Need art supplies for your college-aged child's education? Buying a house? Adopting a teenager?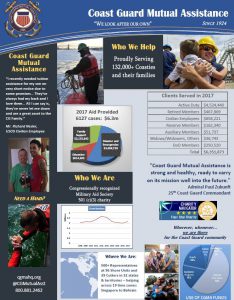 Going back to school? New Baby? Family member die unexpectedly?
CGMA can help. "We Help Our Own" is our motto.
Since 1924, CGMA has provided financial aid for civilian employees of the Coast Guard. This assistance is in the form of loans, grants or other gifts. Last year alone, civilian employees received over $800,000 in assistance; to date in 2018, over $294,000 has been provided. This ranged from major plumbing repairs to education support to dental needs not fully covered by insurance. Many civilian employees were affected by the storms during 2017; 129 cases in Puerto Rico received nearly $300,000 in grants and loans.
Donations to CGMA ensure we remain Semper Paratus and help ensure Coast Guard employees can obtain help when needed. Take the time to learn more about what CGMA can do for you and your family; visit http://www.cgmahq.org/, or find your local representative here.
Comments
comments
Tags: coast guard mutual assistance, finances
U.S. Coast Guard (USCG) reports are created independently of American Military News (AMN) and are distributed by AMN in accordance with applicable guidelines and copyright guidance. Use of USCG and U.S. Department of Defense (DOD) reports do not imply endorsement of AMN. AMN is a privately owned media company and has no affiliation with USCG and the DOD.