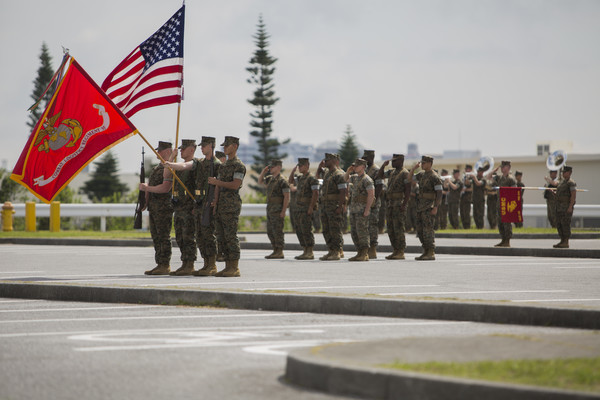 CAMP KINSER, OKINAWA, JAPAN —
Col. Forrest C. Poole ceremoniously passed command of Combat Logistics Regiment 35, 3rd Marine Logistics Group to Lt. Col. Kenric D. Stevenson during the regimental change of command ceremony May 1, 2018 at Camp Kinser, Okinawa, Japan.
Poole assumed command of CLR-35 June 14, 2016 and since then has lead the regiment through various exercises in the Indo-Pacific.
"The Marines are the spearhead," Poole said to the audience and Marines in attendance.
"These Marines in front of you represent about 2,500 Marines who could not be here today. I have set the bar high, and they jumped over it. Thank you so much Marines."
Stevenson has served as the CLR-35 executive officer since July 15, 2017 before assuming command of the regiment.
"A lot of times we don't know who we are turning the command of our unit over to," Poole said. "Lt. Col. Stevenson is a good man, and I wouldn't want to turn it over to anyone else."
Stevenson expressed how thankful he was to be appointed into the position and that the responsibility would not be taken lightly. Brig. Gen. Daniel B. Conley, commanding general of 3rd MLG, was the guest of honor at the ceremony and addressed both Poole and Stevenson, commending their hard work and wishing them well on the next steps in their careers.
"Over the last two years you have shown me what it means to be the commander of a logistics regiment," said Conley, speaking to Poole. "[And to] Lt. Col. Stevenson, best of luck!"