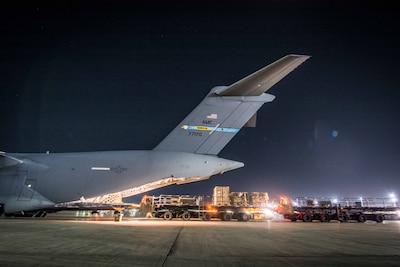 AL UDEID AIR BASE, Qatar, Feb. 8, 2018 —
Late in January, at an altitude of nearly 30,000 feet, a 174-foot long aircraft cut through the air with more than 40,000 pounds of thrust per engine. The equipment and personnel on board were needed to support ongoing operations in U.S. Central Command's area of responsibility.
The aircraft, a C-17 Globemaster III assigned to the 816th Expeditionary Airlift Squadron based here, had its belly full of shipping containers and pallets of equipment belonging to the U.S. Army's Bravo Company, 244th Military Intelligence Battalion. The load was moving from Iraq to Afghanistan in support of Operation Freedom's Sentinel and NATO's Resolute Support missions.
Since the C-17 was operationally introduced to the Air Force in 1995, these are the types of missions that they were created to accomplish: rapid strategic delivery of troops and all types of cargo to forward operating bases throughout all areas of operation.
In 2016, the squadron flew more than 2,400 missions, moving nearly 102,000 tons of cargo and almost 120,000 passengers, including 116 aeromedical patients.
The C-17 not only is proficient in the transportation of troops and cargo, but also can perform tactical airlift and airdrop missions and transport ambulatory patients during aeromedical evacuations.
Prime BEEF Squadron
A couple of dozen airmen assigned to the 577th Expeditionary Prime Base Engineer Emergency Force Squadron lined the interior sides of the aircraft, with mere feet between them and the chained-down cargo. They had been on the aircraft since it departed from here, some having just arrived in theater from the United States days prior. A handful of these forward-deploying airmen disembarked in Iraq, while the others stayed on board until reaching Bagram Airfield in Afghanistan.
The Prime BEEF squadron regularly deploys to help plan, design and build forward bases. Their mission for further development of Kandahar Airfield in Afghanistan was to compensate for the influx of additional troops, assets and aircraft needed for the fight against the Taliban in the region.
In stark contrast to the 77 degree temperature when leaving Al Udeid, it was a single degree above freezing on the flight line of Bagram Airfield as the C-17 loadmasters and members of the 455th Expeditionary Aerial Port Squadron expeditiously offloaded the equipment.
After more transient soldiers and airmen boarded the aircraft the following day, it was back in the air, heading back here in the early hours.
The 816th EAS is an important component flying a vital airframe in the fight against terrorism throughout the area of operations in support of Operation Inherent Resolve and Operation Freedom's Sentinel. In the coming days, weeks, months and years it will continue providing a vital role wherever they fly.