This report originally published at defense.gov.
---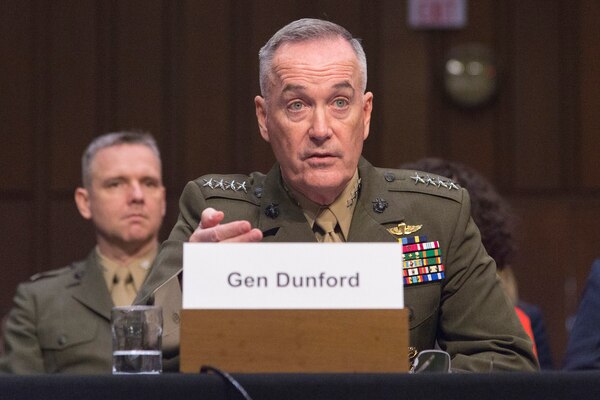 DOWNLOAD HI-RES / PHOTO DETAILS
Marine Corps Gen. Joseph F. Dunford, chairman of the Joint Chiefs of Staff, testifies on the DoD posture and fiscal year 2019 budget request before the Senate Armed Services Committee in Washington, D.C. April. 26, 2018. DoD photo by Navy Petty Officer 1st Class Dominique A. Pineiro
WASHINGTON —
The current budget situation will allow the military to restore its competitive advantage over any possible adversary, the chairman of the Joint Chiefs of Staff told the Senate Armed Services Committee today.
Marine Corps Gen. Joe Dunford stressed that the U.S. military has a competitive advantage over any potential adversary right now.
"I'm confident we can deter a nuclear attack, defend the homeland, meet our alliance commitments and prevail in any conflict," he said. "But as we've previously discussed, after years of sustained operational commitments, budgetary instability and advances by our adversaries, our competitive advantage has eroded and our readiness degraded."
The appropriations in fiscal years 2017 and 2018 and the proposed fiscal 2019 budget support building the lethal and joint force the nation needs, he said.
The chairman detailed the strategic environment the United States military faces. Russia and China are the immediate priority, he said. But the United States must be able to confront rogue regimes such as Iran and North Korea and continue to keep violent extremist groups in check.
China and Russia are America's near-peer competitors, and those countries continue to invest across the full range of nuclear, cyber, space and conventional capabilities, Dunford told the senators. "Both states are focused on limiting our ability to project power and undermining the credibility of our alliances," the chairman said. "They are also increasingly adept … at enhancing their interests through coercive competitive activity below the threshold of armed conflict."
North Korea has been on a relentless pursuit of nuclear capability and the means to launch those weapons. North Korean leader Kim Jong Un has been clear that these capabilities are intended to threaten the United States and U.S. allies in the region.
Iran continues to spread malign influence and create instabilities across the Middle East. Defense Secretary James N. Mattis said earlier this year that Iran has its hands in every conflict in the region.
The United States and its allies and partners have made tremendous progress against violent extremist groups in the past year, Dunford said, but more must happen to deal with the challenges of violent extremism, including the Islamic State of Iraq and Syria, al-Qaida and associated movements.
"Defending our homeland and our allies, and advancing our interests in the context of these and other challenges requires us to maintain a balanced inventory of ready, lethal and flexible forces that are relevant across the range of military operations," the general said.
Dunford said the U.S. military is on a path toward developing the force that is needed for the future. "This year's budget again builds on the readiness recovery that we started in fiscal '17 and accelerates our efforts to develop the capabilities we need both today and tomorrow," he said. "In requesting your support for this year's budget, I – along with all the senior leaders in the department – are making a commitment to you to make every dollar count."
To restore the military's competitive advantage and make sure service members never find themselves in a fair fight, the U.S. military requires sustained, sufficient and predictable funding, he said.
"The funding in this budget is sufficient," Dunford said. "I look forward to working with Congress to make sure that it is sustained and predictable in the future."
(Follow Jim Garamone on Twitter: @GaramoneDoDNews)
U.S. Department of Defense (DOD) reports are created independently of American Military News (AMN) and are distributed by AMN in accordance with applicable guidelines and copyright guidance. Use of DOD reports do not imply endorsement of AMN. AMN is a privately owned media company and has no affiliation with the DOD.