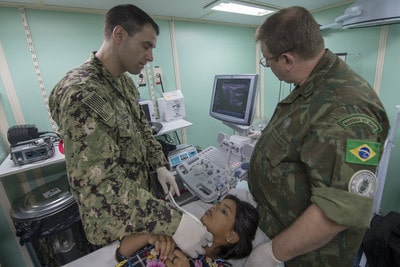 March 7, 2019 —
MANAUS, Brazil (NNS) — Four U.S. Navy physicians embarked aboard Brazilian Navy hospital ship NAsH Carlos Chagas (U 19) completed a month-long mission with their Brazilian Navy counterparts to exchange medical expertise and to bring medical care to isolated communities along the Amazon River, March 3.
The mission encompassed nine total mission stops along the Rio Madeira portion of the Amazon, with Chagas traveling south from Manaus on Feb. 4 to Porto Velho and back to Manaus. The U.S. team; comprised of two family medicine doctors, a pediatrician/infectious disease specialist, and a dermatologist; was paired with a rotating team of Brazilian Navy general medical officers, an obstetrician, and a general surgeon.
First in Axinim on Feb. 6, the U.S.-Brazilian team visited the Heraclio Emiliano Moda medical clinic. With the waiting room filled to capacity and a line spilling out the door into the street, the team saw 135 patients over the course of eight hours. Six days later on Feb. 12 in Bom Futuro, the team set up a clinic at a school close to the riverbanks, seeing 95 patients. A majority of the care took place on the riverbank itself, with patient consultations and exams conducted outside under a grove of trees. Two days later on Feb. 14 in Calamã, the team treated 102 patients at the comparatively sprawling Benjamin Silva- Calamã clinic.
Following a port visit to the mission turnaround point of Porto Velho, the team conducted a spree of medical clinics as they headed northeast up the Rio Madeira. In Nova Aliança on Feb. 19, the team treated 93 patients in a single open wing of a public building. The next day, Chagas moored in São Carlos and the team travelled a short distance to a school to treat 178 patients. On Feb. 21, an open structure in Pombal kept the rain off the physicians as they treated 62 of the village's residents. The last mission stop of the series took place in Humaita on Feb. 22, where 19 Brazilian Navy family members received care aboard Chagas. At the clinic's conclusion, the team enjoyed a scheduled port visit in Humaita.
The penultimate mission stop in Prainha on Feb. 26 did not go according to plan. Due to flooding in the area, a majority of the village's residents had packed up and moved away. Nevertheless, the remaining 30 residents were brought aboard Chagas and treated. With the extra time, the final mission stop of Vencedor occurred a day early on Feb. 27, where 100 patients received care in a schoolhouse.
Over the course of those nine mission stops, the team saw 814 patients. The average Brazilian field clinic design averages to 32 patients seen by a provider team, but the U.S.-Brazilian joint field clinic design average came out to 42.3, a 32% increase.
Lt. Cmdr. Robert Lennon, the U.S. team lead, emphasized that the two main objectives of the mission – enhancing U.S. military medical readiness and strengthening U.S.-Brazil relations – were accomplished beyond expectations.
"The ability to practice quality medicine in austere environments is an essential skill for military clinicians that can only be learned by participating in missions like this," he said. "The universal language of medicine and dramatic impact of providing community care means that joint missions are an excellent platform for building partnerships, and this mission is a model for military medical diplomacy."
Having participated in a 2017 iteration of this mission, Lennon noted several improvements to the first of two scheduled joint operations in 2019.
"Chagas was built as a hospital ship, and the layout and functionality is that much more efficient. The interoperability has been extraordinary, and this makes a big difference. There have been massive advances in the Riverine Health Network as well, which lets us refer patients and continue to direct and enhance care. And we proved the concept of telemedicine with live consults made between remote primary care and dermatology specialty care in Manaus and Naval Medical Center Portsmouth," he said.
Lennon highlighted the capability of the point-of-care ultrasound (POCUS), which essentially plugs a proprietary ultrasound wand into a modified Android tablet running custom software. 3% of all patients seen received the ultrasound examination, and two Brazilian physicians were trained to the level of U.S. credentialing in point-of-care techniques.
"This demonstrates POCUS training as both an immediate partner nation capacity improvement tool and a potent medical force multiplier to humanitarian care," he said.
The mission's linchpin, according to Lennon, came in the form of Brazilian Navy Cmdr. Carlos Marsico, Manaus Naval Polyclinic director. The U.S. team was only able to practice medicine in Brazil under the license of a Brazilian physician for limited didactic missions, and it was Marsico who served as that license-holder.
Marsico emphasized the importance of the mission, noting the combined team of polyclinic staff, Brazilian Navy Amazon Flotilla staff, Chagas sailors, and U.S. personnel made a life-changing impact for the people of Rio Madeira.
"Many times, this is the only specialty care they will ever see. They really need it, as they are so isolated. They seldom see specialists like dermatologists – when they get doctors, they're general practitioners. These people have the same needs and wants as all, and sometimes these missions are the only care they see for months at a time," he said.
The Brazil Riverine Medical Mission is a joint effort between Commander, U.S. Fourth Fleet and the Brazilian Navy's Ninth Naval District, whose mission is to provide care to local populations, build medical interoperability in support of joint humanitarian and disaster relief missions, and exchange medical knowledge. This was the third mission of its type and served as a platform to expand the U.S. Navy's tropical medicine training opportunities, which will ultimately combine training at the Tropical Medicine Institute in Manaus followed by a joint medical mission within the Amazon River basin.
Get more information about the Navy from US Navy facebook or twitter.
For more news from U.S. Naval Forces Southern Command & U.S. 4th Fleet, visit www.navy.mil/local/cusns/.