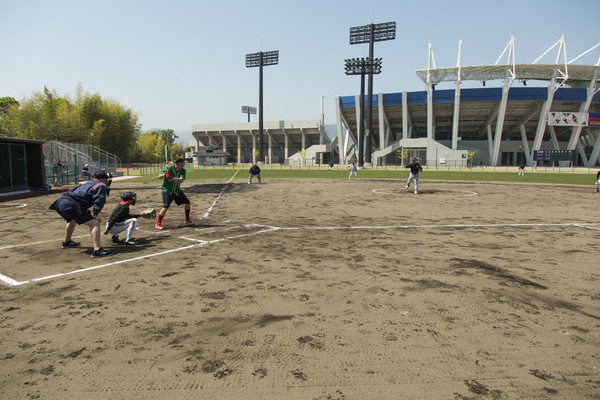 IWAKUNI CITY, YAMAGUCHI, JAPAN —
Marine Corps Air Station Iwakuni service members, residents and Japanese nationals faced off against one another in the Japan-U.S. Modified Fast Pitch Tournament at the Atago Hills sports complex in Iwakuni City, Japan, April 28, 2018.
The tournament was hosted by Marine Corps Community Services intramural sports division as a way for service members and station residents to bond over a sport that people from both cultures play.
"Everyone loves softball," said Jason Knight, the intramural sports coordinator for MCCS. "We've got tons of players on base, out in town and all up and down Japan. This gives them an opportunity to get together, play, have fun and really experience a true friendship game."
Knight says that he is looking to expand intramural sports on the air station by including Japanese nationals.
The recently completed sports complex at Atago Hills was built for public use by both Americans and Japanese as a friendship facility, and events like this exemplify that purpose.
Intramural sports can increase morale and unit cohesion, but it also introduces service members to the Japanese population and helps them to understand the local culture.
"We don't interact together very often because we are on base," said U.S. Marine Corps Cpl. Bradley Perez, a fixed-wing aircraft airframe mechanic with Marine Fighter Attack Squadron (VMFA) 121. "Whenever we do go out in town, the language barrier is always pretty complex. (Softball) is an American game and a Japanese game. Whenever we come out here and play together, we are speaking the same language."
At the end of the day, the champion of the tournament was an American team named Fire. The team consisted mostly of service members from Aircraft Rescue and Firefighting and members of the station fire department.