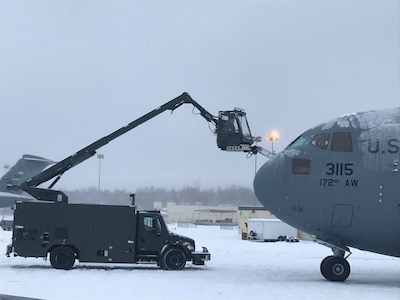 TRAVIS AIR FORCE BASE, Calif., Feb. 13, 2018 —
Airmen from the 621st Contingency Response Wing here trained alongside soldiers from Fort Wainwright, Alaska, during the Rapid Alaskan Airlift Week exercise at Eielson Air Force Base, Alaska, Jan. 19-26.
The exercise is designed to optimize exercise opportunities in a cold weather environment and enable sharing of tactics, techniques and procedures between airmen and soldiers. During the training, the service members trained on de-icing aircraft and loading mine-resistant, ambush-protected vehicle, small unit support vehicles, AH-64 Apache helicopters and Stryker combat vehicles.
"Most of the training was focused on getting U.S. Army Alaska units familiar with their aircraft loads, so if faced with an accelerated deployment they will be better trained to deploy with minimal support," said Air Force Senior Master Sgt. Jeremy Fisher, 821st Contingency Response Squadron operations superintendent.
Teamwork
Airmen and soldiers worked together to effectively operate in arctic climates, with subzero temperatures as low as -30 degrees Fahrenheit. "Most of us have deployed and have operated in temps surpassing 100 degrees Fahrenheit, but there is no comparison to operating in subzero temperatures, with snowfall, winds blowing, and decked out in bulky clothes. It's not fun at all, but the team did it all with ease," Fisher said.
"Snow, frost and ice on the flight surfaces of an aircraft can lead to extremely hazardous situations during a flight," said Air Force Master Sgt. Desmond Carr, 821 CRS maintenance flight chief. The airmen participating in the exercise, he said, "have to be ready to operate in a wide variety of climate conditions … [like the] severe weather conditions in Alaska, and specifically at Eielson, allowed us to operate in conditions that relatively few people have experience living in, let alone working in."
According to Fisher, the maintainers at the exercise were challenged with the cold temperatures and snow more than anybody else on the team. "Despite being limited on equipment and de-icing trucks, they were able to develop alternative deicing options to prevent aircraft from terminating at Eielson for weather holds," he said.
The exercise was another opportunity for soldiers and airmen to train together.
"Anytime you can get a look at another service's deployment process, become familiar with their cargo, or have an opportunity to mission plan together, it becomes value-added training," Fisher said. "This exercise allowed us to learn how the Army prioritizes their movements."
The exercise "provided a unique opportunity to conduct rapid, robust contingency response operations in a very challenging physical environment with our joint partners," said Air Force Lt. Col. Blaine Baker, 821 CRS commander.