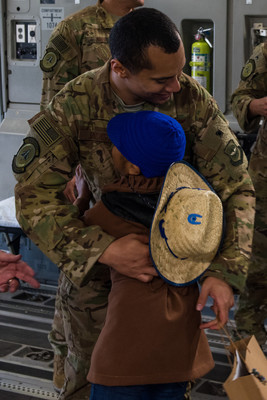 TRAVIS AIR FORCE BASE, Calif. (AFNS), April 25, 2018 — When emergencies happen in the U.S., the sirens of fire trucks and ambulances coming to the rescue can be comforting. Thanks to a C-17 Globemaster III crew from Travis Air Force Base, California, indigenous Mayans in Tecpan, Guatemala, will now hear that same sound of hope and help.
The crew made up of Airmen assigned to the 21st Airlift Squadron and the 860th Aircraft Maintenance Squadron delivered an ambulance and a fire truck to Guatemala City, Guatemala, April 20, 2018. They were donated by the Mission of Love Foundation and shipped through the Denton Program.
The Denton Program is a Department of Defense transportation program that moves humanitarian cargo, donated by U.S. based non-governmental organizations to developing nations to ease human suffering. The approved cargo is transported by DoD land, air or sea assets on a space-available basis and is managed by the U.S. Department of State and DoD.
"This is the most rewarding part of our jobs to have the opportunity like this where we get to help out those who need it," said Staff Sgt. J.R. King, 21st Airlift Squadron loadmaster. "Humanitarian cargo like what we are delivering is important. We see vehicles like these every day in the U.S., but for less fortunate countries, they may not have the access or the luxury of having these resources. Missions like these are rewarding and hold a special place in my heart."
The Mission of Love Foundation has been working in Guatemala for the past 24 years and is the largest user of the Denton Program, having delivered medical equipment, relief and humanitarian supplies to needy communities throughout the world.
"We work on five continents with an all-volunteer force," said Kathleen Price, Mission of Love Foundation founder and director. "It is truly a mission of love unconditionally, and with that, all things are possible. With a group of volunteers, the Denton Program and the Air Force together are making this possible for those in need. I couldn't do it alone. I am just a facilitator."
It was a team effort to deliver the emergency response vehicles, and an important part of that team were the Airmen at Youngstown Air Reserve Station, Ohio, that helped package and load the vehicles.
"The reservists packaged everything up and helped us load it up to an active duty plane to fly down to Guatemala," said Maj. Derik Neitz, 21st Airlift Squadron C-17 Globemaster III pilot. "Once in Guatemala, we were met by local entities there and Mission of Love. It has been neat to see all the different organizations work together."
The emergency response vehicles are not the typical cargo that Travis AFB Airmen deliver, so the crew worked through some challenges.
"A lot of us have flown together before," Neitz said. "Our enlisted crew is very experienced, and we needed that on this mission, it is an unusual upload with no tie down rings on the vehicles."
"They say that iron sharpens iron," King said. "Working with these guys is a good opportunity to help me learn and better myself. A big part of a successful mission is teamwork and trusting each other; our jobs can get hectic. There are always three or four things going on at a time, and you have to trust your teammates that they are going to get the job done."
A lot of planning went into making this mission a success.
"We did all the flight planning ourselves starting two or three months ago," Neitz said. "We also worked with some 621st Contingency Response Wing Airmen at Travis (AFB) who helped with the accommodations and networking with people in Guatemala, so we knew who to talk with when we arrived."
All the planning paid off and the Airmen were able to deliver the emergency response vehicles to a thankful reception in Guatemala.
"I've been working on this for a year," Price said. "Just to know the plane was flying here today with this aid for these beautiful indigenous people made my heart sing. You're not here to save the world, but you are here to touch the hands within your reach. I appreciate what the Air Force has done here today."