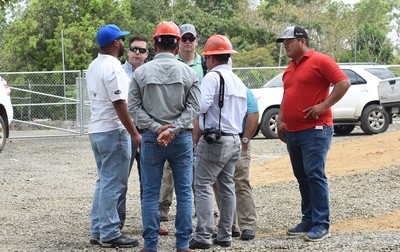 METETI, Panama, May 2, 2018 — At any given time, around 200 members of the U.S. military will be housed, fed, and shuttled to and from work sites and living quarters while performing their duties as part of Exercise New Horizons 2018. Negotiating, securing, and adjusting contracts for those services and many more falls on the shoulders of two Air Force non-commissioned officers conducting business in Panama City, Meteti, and several other towns and villages across the Central American country where construction projects and medical services are taking place.
Air National Guard Master Sgt. Forrest Lipe and active-duty Tech. Sgt. James Richard 'JR' Mullis have already logged more than 380 hours of phone calls, 4,000 miles travelling to sites, and 1,200 hours of office, lunch and dinner meetings, to ensure the 346th Air Expeditionary Group has what they need to conduct their joint deployed training exercise.
The planning process for all things NH18 began in 2017 with Air Forces Southern planning meetings and site survey trips to Panama for initial talks and requests for contract bids.
On February 1, Mullis arrived in country and hit the ground running and at the end of March, Lipe departed his case work supervisor position at the Logan Correctional Center, a female max prison in Lincoln, Ill., to join Mullis working 12- to 15-hour days in finalizing contracts and building the relationships needed to accomplish their mission in the deployed environment.
Building relationships and negotiating contracts in Panama versus in the United States has its differences.
"Here in Panama when it's time to talk contracts, we don't," said Mullis, who explained, "there is a lot more to meeting and forging contracts here. You first have to earn a bond of friendship—talk about families, work, and everything in between—before actually getting down to business. When we're discussing contracts in the States, it's as simple as, 'you have a business or a product, we need that business or product,' we go back and forth on their quote versus what we can pay, come to a conclusion and that's it."
Conversely, according to Mullis, getting a contract signed in Panama requires multiple meetings at offices, over lunch, over dinner, and even then, multiple iterations of the contract back and forth so it can take weeks versus a few hours.
"We had to dig deep into the details for a lot of things that you would naturally assume you'd receive in the States," said Lipe, "like soap for laundry service. We received the bid from one hotel in Meteti who said he could wash all the laundry for a very low price, so we asked if that included soap. He said no, that would have to cost extra. So, there are differences in the U.S. negotiations and Panamanian ones, but also between how things are done in the city versus rural areas, but they all want to see you in person to talk."
On top of the time put in to work contracts, there is also the difficulty of having companies deliver their goods and services to Meteti, Panama, a roughly four-hour, 300-mile round trip from Panama City.
"The most difficult part of negotiations is just the geographic location of the exercise" said Mullis, a contracting officer with 12th Air Force at Davis-Monthan Air Force Base, Tucson, Ariz. "We can buy items needed in Panama City or have things shipped to the city, but then getting them shipped to Meteti is another story. For the items we can get shipped, the cost is astronomical, sometimes two- or three-times more when you factor in the shipping charges."
Another issue the contracting officers face is that Panama City is a booming economical hub currently with high-rise building construction everywhere you look. That puts a strain on getting some necessary resources to the very rural town of Meteti, far from the investment dollars of the big city. For example, the concrete needed for the bases of all the building projects was too big of a job for the local companies, but too small for the booming concrete businesses in Panama City so the team had difficulty getting concrete.
That didn't stop the dynamic duo, in a win for concrete they found an unusual way to get the concrete needed to the five construction sites around Meteti.
"We were working the hotel contracts with a prevalent businessman in Panama City who was also on a business council," said Mullis. "When we wrapped up hotel negotiations, he asked if there was anything we needed or were having issues with. We told him there was difficulty with concrete. That gentleman happened to be good friends with a top concrete company owner. When the hotel contractor called the concrete contractor, he explained to them we needed help and were on a timeline."
Lane said, "we received a call the next day from the concrete company representative asking what we needed … and that's how things go here sometimes."
Just one example of how the contracting officers remained flexible yet undeterred to get the job done so the deployment mission can be met. And their customers couldn't be happier with the level of support they've received.
"There is no way I could do my job without the contracting guys," said Tech. Sgt. Israel Revuelta, the lead services specialist for the deployment. "Just with them securing the basics like lodging, ice, water, and all the other things we need—they also have made receiving people to lodging easier, I can just check the people in and make sure they are taken care of, like government lodging. Had they not secured these hotels, there's no way we could lodge this entire group here (in Meteti)."
Revuelta, who's tasks span the entirety of the New Horizons mission, include running lodging, meals-to include restaurants as well as MREs (meal, ready-to-eat), MWR operations (morale, welfare, and recreation), water distribution, and a host of other duties he'd have a much larger team to help with.
"Honestly, everything I need here goes through them," said Revuelta whose home-station duty is as the section lead for the eight-person services team supporting the 820th RED HORSE Squadron at Nellis AFB, Nev.—the same squadron here working construction projects. "They've worked to also secure quality of life projects as well like the hotel day room for MWR to food, fitness, and all the lodging. They have done this and continue to work contracts for any necessary changes, because contract issues don't stop once the initial one has been signed, there are constant alterations that take place."
Another twist to the usual contracting way is the tracking system they use. New Horizons 2018 is the test bed for a new way for the Air Force to conduct contracting operations, an all-digital format not used before.
In previous years, contracting officers would deploy with multiple large hardened cases with a desk, computers, a book's worth of purchasing order forms, and every bit of supplies they would need to conduct business. Now, they have one hardened case, roughly the size of two briefcases combined side-by-side that houses a tablet, printer, and some basic supplies as all the work is done digitally, even with contracts signed using their fingertip on the tablet.
"This lighter footprint has been amazing for us to be able to move quickly and get things done faster and easier," said Lipe. "It's been a big help in what we've done here but isn't without drawbacks—being online can sometimes be an issue in the very remote areas and so can doing business with electronic fund transfers. Most of the remote towns and villages and even in Meteti, people don't use electronic funds, they prefer hard currency. But, we can work with that too and revert to the old way of hard copies and cash."